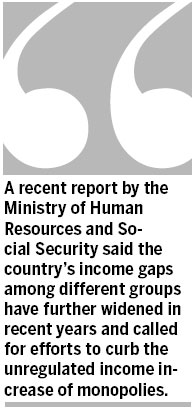 It is essential to increase social fairness and justice and boost demand by narrowing the ever-widening wealth gap
Wednesday's State Council meeting chaired by Premier Wen Jiabao was confirmation of recent reports that China is to press ahead with its long-awaited income distribution reform. While laying out near-term economic work plans, the State Council meeting has transmitted the message that "an overall program on income distribution reform is set to be drafted in the fourth quarter".
This means China's marathon effort to draft such a program, which the National Development and Reform Commission has been working on since 2004, is drawing to a close.
The program, if completed as announced, will fulfill Wen's commitment to finish the task before the end of his second term next March. In this year's Government Work Report delivered to the annual session of the National People's Congress in early March, Wen vowed to enhance the rational income distribution system as it is an "important manifestation of social fairness and justice" and a major way to boost domestic demand and narrow the country's income gaps. In an article published in Qiushi, or Seeking Truth, an official magazine of the Communist Party of China, later in March, Wen once again stressed greater efforts are needed to build a rational income distribution structure.
According to the Blue Paper on Social Management, published by the Chinese Academy of Social Sciences in mid-September, the gap between the rich and poor is continuing to widen and systematic risks are on the increase. The paper warned that the widening gap between rich and poor is approaching the "line of social tolerance" and it is a potential public crisis if no changes are made.
China is now among the countries with the most serious income disparity. China's Gini coefficient - a commonly used measurement of wealth inequality - is now very high, although no official figure has been published for a decade. The last time the National Bureau of Statistics published China's Gini coefficient in 2001, it was 0.412. In a report about the construction of China's all-round well-off society, published at the end of 2011, the NBS said China's Gini coefficient in 2010 was slightly higher than that in 2000, but it did not offer a specific figure. However, considering the hidden income that many high-income groups enjoy, the country's Gini coefficient will be even more than officially estimated.
The Gini coefficient measures income distribution on a scale of zero to one and it indicates a relatively reasonable income gap if measured between 0.3 and 0.4. If it is between 0.4 and 0.5 it signifies a large income gap. According to Li Shi, director of the research center of income distribution and poverty under Beijing Normal University, China's Gini coefficient was 0.48 in 2007.
A recent report by the Ministry of Human Resources and Social Security said the country's income gaps among different groups have further widened in recent years and called for efforts to curb the unregulated income increase of monopolies.
Any progress in narrowing the ever-widening income gaps would be welcome, as reform of the established income distribution system has been continually obstructed by firmly entrenched vested interests.
However, in addition to the unequal income distribution between State-owned enterprises and private companies, the government-tilted income distribution pattern has also been to blame for China's current widening income disparities. Statistics show that the per capita income of China's residents grew 13.7 percent from 2002 to 2011, much slower than the 20.4 percent growth in government fiscal revenues during the same period. More importantly, not enough government revenues have been used for projects to improve people's livelihoods, such as education, healthcare, government-funded housing and social security. In 2011, only 30.6 percent of the country's fiscal revenues were used for such a welfare network, compared with 52 percent in the US and 63 percent in Japan the same year.
A fair and reasonable income distribution system is essential for constructing a harmonious society. It is hoped that in the forthcoming income distribution reform program, the government can really face up to the causes underlying the current income disparities to realize Wen's promise that "we will not only make the 'pie' of social wealth bigger, but also distribute it well".
This author is a writer with China Daily. Emai: Wuyixue@chinadaily.com.cn
(China Daily 10/22/2012 page8)