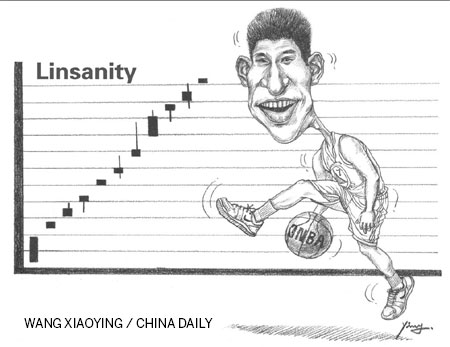 The Jeremy Lin phenomenon has been labeled "Linsanity", but perhaps a more meaningful word to describe the whirlwind now sweeping the globe would be "Linspiration".
This is because the 23-year-old Harvard graduate of Chinese ancestry has inspired millions of young people in the United States and around the world with his example of how to pursue a dream against overwhelming odds.
Lin was continually underestimated. Despite leading his high-school team to success, Lin failed to receive a sports scholarship; and despite being declared among the 12 most versatile players in college basketball by ESPN, the US global cable television network focusing on sports, Lin went undrafted after college.
Finally, after managing to force his way into the NBA and onto the bench of the New York Knicks, Lin received his chance to shine and took it brilliantly. Now he is showing everyone else what he always believed he could achieve on a basketball court.
Rarely in the history of American professional basketball has a player become such a global sensation so suddenly and so quickly. Many of his fans in Asia choose to stay awake so they can watch live broadcasts of his games, while his fans in the US include President Barack Obama and many of his Harvard alumni such as Mark Zuckerberg, the founder of Facebook.
Lin's meteoric rise to stardom has also inspired a great deal of media coverage. Western media have trumpeted the fact that Lin's success could only have happened because he was born and brought up in the US. They claim Lin is "everything that China's State sports system cannot produce".
In China, as a corollary to this, there have been those quick to point out that Lin is an embodiment of the American Dream not the Chinese Dream. They also caution Chinese basketball fans not place Yao Ming's mantle on Lin just because he has a Chinese face.
It is certainly true that China's sports system has room to improve. The focus should shift from training athletes in elite sports to compete for gold medals to mass sports aimed at keeping ordinary people fit. At the same time young athletes need to receive more academic education so they can avoid following the same path as Zhang Shangwu, a former champion gymnast, who, when his career was ended by injury, became a thief.
However, his is an extreme case and people should not forget that under China's current sports system many athletes have succeeded not only in their sports but also after they retired. Li Ning, the main torchbearer at the opening ceremony of the 2008 Beijing Olympic Games, was a champion gymnast and is now a successful entrepreneur. Jet Li was a charismatic wushu champion who had been trained in a special sports school in Beijing before he became an actor.
China's sports system does need reforming, but it is nonsense to say that it doesn't provide any opportunity for athletes like Lin, who at first seem unexceptional in their sports.
And to accuse China's sports system of being the cause of former sports stars falls from grace is foolish. Western sports have their own flawed idols, such as Mike Tyson, for example, who was well-known for his ferocious and intimidating boxing style as well as his controversial behavior both inside and outside the ring.
As to those who reject Lin as an embodiment of the "Chinese dream", it is simply narrow-minded for people to reject Lin as a role model for young Chinese simply because he was born and brought up in the US. His hard work, perseverance and modesty deserve appreciation among young people, no matter whether they are Chinese or American or any other nationality.
Lin worked extremely hard to get himself ready for the opportunity which he was convinced would one day knock on his door. We can continue to draw "Linspiration" from this remarkable young sportsman not only for his tenacity, but also for his many other qualities - such as humbleness, courage and patience - and from the future triumphs and achievements that are sure to follow for many years to come.
The author is a Chinese born journalist living in North America.
(China Daily 02/27/2012 page9)