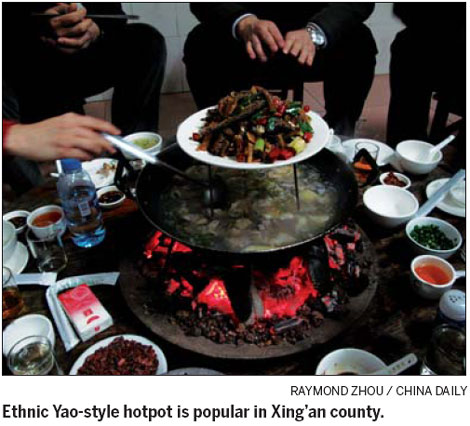 Sitting down to a hotpot dinner at Xing'an is to eat like an ethnic Yao, which is nothing like what you'll experience in a big-city restaurant. First of all, the table is set very low, with wooden stools fit for kids. Second, the charcoal is not contained in a bronze utensil (and forget about the electric stove).
The biggest surprise: They use a wok, the kind found in most traditional Chinese kitchens. This way, diners can enjoy the heat that is sorely needed in the unheated homes of southern China, and they can take turns adding charcoal or rearranging it.
Kids should be barred from taking part in this activity, though. They could be burned.
Whole chickens are boiled in the wok, with water frequently added. So, chicken soup forms the base flavor. Of course, you can have other options.
Now, the truly unique part: Inside the wok is placed a metal rack upon which one of the dishes is placed, engulfed by steam drifting out of the wok. Granted, this could impede diners' reach, but somehow this works as a partition because people will pick only the portion of the wok closest to them.
With a regular bowl, the steam is not effective in keeping the dish warm. But the pyramid does give attention to at least one dish the host wants to highlight. Besides, you can switch dishes for the spotlight.
I was wondering why nobody had thought of the acrobatic structure wherein a rack can support four or more dishes and perhaps in tiered layers. That would save a lot of table real estate by going vertical, akin to the high-rise living of the modern era.
Unlike the Yao hotpot, Xing'an's vermicelli is available all over the country. Known as Guilin rice noodle, it is endlessly affordable and endlessly scrumptious.
"No, what you eat in Beijing is no longer authentic," locals insist. "Xing'an is where Guilin rice noodles came into being."
Rice is ground into paste and dried. Then it's turned into dough, half-cooked and pressed into perfectly round or flat noodle strips. What differentiates the Xing'an offerings from similar ones elsewhere is a slight chewiness that takes on a faint resemblance to Italian spaghetti.
The hardest part is the sauce. It uses lots of fresh spices, which are first boiled and then simmered for long hours. There are variations to yield degrees of richness.
The rice noodles are served either in soup, but meticulously prepared, or dry, with side dishes and condiments added and stirred with the noodles after they are re-heated in boiling water for a few seconds.
If you think the Guilin-branded rice noodle in coastal metropolises is good, just wait until you try it in its birthplace.