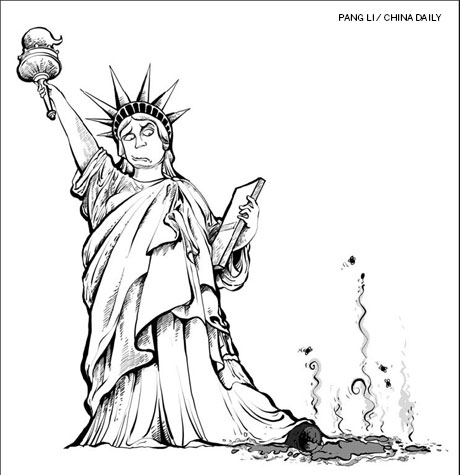 US lawmakers have called upon both houses of Congress to make an official statement of regret for the 1882 Chinese Exclusion Act and related legislation, which banned Chinese immigration and naturalization. By passing the act, Congress for the first time denied citizenship rights to a group of immigrants. The law was finally abolished in 1943.
Such expressions are rare in Congress, the first coming in 1988 for the persecution of Japanese Americans during World War II and the second in 2008 for the oppression of black slaves.
The Chinese Exclusion Act has a very sad position in the legal history of the US, says Martin Gold, partner in Covington & Burling's Washington office. "Every American, except for a few, is the product of immigration. I am working with my colleagues to get Congress to acknowledge the sad history and express regret for it," says Gold, who is the grandson of a Russian Jewish immigrant from Belarus. Gold was on the staff of the US Senate for more than a decade and served as counsel to two Senate majority leaders.
He says this Congress has no relation with the policy that existed in the 19th century. "But only this Congress has the power to acknowledge history. I don't think this Congress can apologize, because (its members) didn't do anything themselves. But it can say this is what happened and it was wrong."
The policies that directly and expressly discriminated against Chinese people were repealed during World War II, because China and the US were allies against Japan. The idea now is just to complete a chapter in the history of Chinese American people.
Chinese people have played a very prominent and constructive role in the US for more than 150 years, Gold says. For example, the trans-American railway would not have been built without the labor of the Chinese who were prejudiced against at that time. Chinese Americans are working at various levels of businesses and governments in the US today, and have assimilated into American society.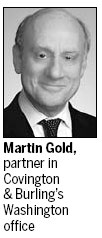 "Chinese Americans have done extremely well. They have both a higher per capita income and a higher education level than whites.Chinese Americans are becoming leaders in business, medicine, architecture and a variety of private fields. I think they will be leaders in the political field as well before long. This will mirror the success they have in education, engineering and medicine," he says.
Chinese immigrants have been in the US longer than many other immigrants. The immigration from Latin American countries started after that from China. "The culture of Chinese people makes them stand out in the US because of their commitment to hard work, education, family and because they have very effectively taken advantage of the American system."
Chinese Americans don't have the victim mentality, Gold says. They don't start from the premise that society owes them something.
"Chinese don't just sit there waiting for people to give them opportunities. They find opportunities and they make them work. Theirs is really an American success story," Gold says.
The perseverance and adaptability of China, which is the root and source of inspiration of overseas Chinese, and his fascination for the country keep dragging Gold back to China. "When you come to China you can understand the foundations of Chinese Americans' commitment to hard work, education and family."
He says Chinese Americans are an important force shaping the US' institutions and system. "Democracy, freedom and personal dignity are values that exist in various forms in different systems The way they are expressed in China and the US may be different, and can make certain aspects of China's development hard to argue for in the West".
(China Daily 07/07/2011 page9)