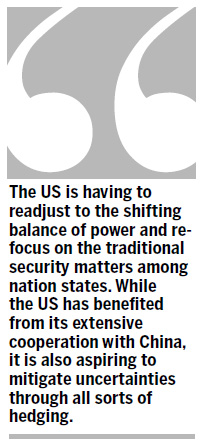 Consultations and cooperation between China and the United States conducive to building trust in the region
Related readings:


 China-US talks focus on issues in Asia-Pacific


 Close contact with US continues


 US finally comes to its senses


 US creates the storm over South China Sea
China and the United States have just held their first consultations on Asia-Pacific affairs in Honolulu. Under this framework, the two sides have addressed a range of issues of shared interest and/or concern, including Afghanistan and the Korean Peninsula. Not surprisingly, the South China Sea dispute was also to the fore at the talks. But reportedly, the agenda of the meeting went beyond Asia Pacific region and the two countries exchanged views on the development of Africa.
While much has yet to be unveiled as to the outcome and effectiveness of this dialogue, it is already understood that both China and the US have agreed that sustaining peace and stability in the South China Sea area is in their common interests. There has been increased tension recently among claimants over parts of the islets, reefs and waters in this region, indeed some parties seem to have genuine concerns as to the right approach to settling the disputes. At a time when China is rising, the US has been highlighting its "return" to East Asia and strengthening its defense ties with some of the claimants.
While the US might be concerned about the freedom of navigation, China could also question the US' intention in returning to the region. Beijing recently cautioned the US, right before this consultation, not to "invite fire" in the South China Sea. Interestingly, also before the talks, the US government assured China that it "doesn't intend to fan the flames". At least the two sides have agreed to "hold fire".
With this assurance the world will be interested in seeing if Washington and Beijing can come up with some mutually agreeable formula to resolve the issue through the consultations.
Security and stability in Afghanistan was another timely issue for both China and the US to address. The two countries have collaborated over the past decade to jointly counter terrorism, including cooperation in Afghanistan. Now that the US and NATO have indicated their phased withdrawal commencing in July, Kabul and the South Asian neighborhood will face new challenges to maintain regional stability, which inevitably is of great importance to China.