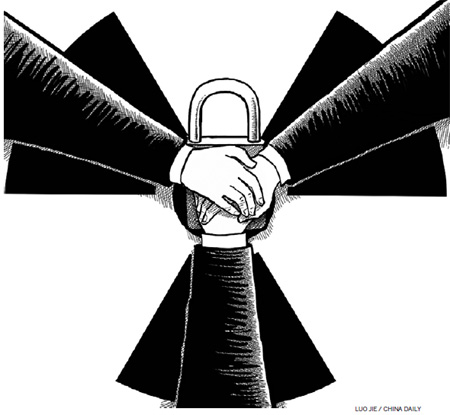 Operators of the Fukushima Daiichi nuclear power plant in Japan failed to implement international nuclear safety standards designed to mitigate damage caused by earthquakes and tsunamis, an International Atomic Energy Agency (IAEA) report said last week.
Related readings:


 Maximum nuclear security


 Japan utility paying $1B to nuclear plant evacuees


 Japan says it was unprepared for nuclear disaster


 Most Japanese oppose nuclear reactor restarts
Japanese nuclear officials also failed to quickly evacuate nearby residents after the March 11 earthquake and tsunami damaged the Fukushima Daiichi plant, which was against the United Nations agency's standards. Nor did they build enough levels of protection to contain the damage and radiation leak that accident could cause.
The earthquake, tsunami and nuclear leakage, or the triple disaster, have not only created the most severe postwar national crisis in Japan, but also affected neighboring countries, especially China and South Korea.
Battling with the nuclear leak, the Japanese government poured about 10,000 tons of radioactive water from the Fukushima Daiichi plant into the Pacific Ocean in April, spreading the crisis possibly to other countries. Though Japanese media reports said Japan had sought the United States' permission three days before dumping the radioactive water, it informed its neighbors only after doing so. The incident highlights the structural defects in traditional response to non-traditional security threats in the Northeast Asian region.
Japan's failure shows that non-traditional security threats cannot be tackled by one country alone and makes it necessary for China, Japan and South Korea to establish a cooperative mechanism to deal with non-traditional security threats such as nuclear proliferation or nuclear leaks.
Leaders of China, Japan and South Korea met at their fourth summit in Tokyo in May and agreed to "strengthen information-sharing and communication on nuclear security". The three countries' leaders have realized the severe threat that natural disasters pose to nuclear safety and security, and agreed that the development of nuclear energy should be based on the premise of guaranteed nuclear security and the "safety first" principle.
The three countries have decided to intensify their dialogue on nuclear security and ways to deal with natural disasters, such as contingency plans, corresponding measures, and problems related to nuclear safety and security. They agreed that proper communication and sharing of information are very important for establishing and maintaining confidence, and the safe operation of nuclear facilities.
The leaders decided to enhance cooperation and build a network that would enable them to notify other countries about nuclear accidents in time, encourage more exchange of experts, and disseminate real-time information on atmospheric flow during such accidents.