Those Chinese netizens still without weibo (Chinese for micro blog) accounts are at a disadvantage, as without one people are missing the chance to directly or indirectly partake in China's public affairs, some of which are of major social significance.
The expansion of micro-blogging in China has been at a startling rate since Internet giant Sina Corp first launched its Twitter-like service, Sina Weibo, in August 2009. As of May 2011, registered weibo users in China topped 230 million and the number is still rising.
There is a reason why weibo fever is raging in China. Those who taste the fantastic connectivity of weibo quickly fall under its spell. Owning a weibo account means everybody, from celebrities and officials to opinion leaders and petitioners, is endowed with the equal right to post what they are seeing and hearing, and express their likes and dislikes, and voice their opinions.
Related readings:


 Sina Weibo users hit 140m as of April


 Chinese quicker to use Weibo to make money


 Sina: no plan to list weibo operation


 Sister Phoenix stirs up the world of Weibo
As a highly efficient social information-sharing platform, the emergence of weibo is gradually changing the structure of public opinion, as well as the social landscape. Previously, the power to set social topics was monopolized by the mainstream media and publicity departments. Now, each weibo user is an information provider and an interest pursuer.
However, weibo appeals to different users for different reasons. For example, some people are fishing for fame, some want to express their discontent, some to display their wealth, some seek to unmask scandals, some are tracing missing persons, some are spreading rumors, some look to help the needy, some to redress an injustice, some use it for political ambition, some just for flirting, to name but a few.
Information technology itself is neutral without value judgment. In the information age, technological innovation continually brings new mediums for the dissemination of information, public debate and criticism that can be used for agitating social changes. They also offer new ways for the authorities to heed the voice of the people, carry out benign interaction with the public, and place themselves under the supervision of the masses.
China is still in a period of prominent social contradictions, and the fast social changes result in differences of opinion and different demands. All these sentiments, reasonable or radical, can find an outlet via weibo and other new media.
On the one hand, public opinion pressure conveyed by weibo is helpful in cracking down on corruption and supervising the administration of local governments. But on the other hand, whether weibo, and the technologies that enable it, can finally develop into a constructive force in the promotion of a civil society remains to be seen.
In practice, weibo rumors are like a "malignant tumor", which can bring discredit to the innocent and cause panic or even social unrest if not clarified in time.
Nothing can be accomplished without norms or standards, and this also applies to cyberspace. Without an effective authentication mechanism, such as a real-name registration system, and corporate ethics and personal self-discipline, weibo will lose its power to promote change.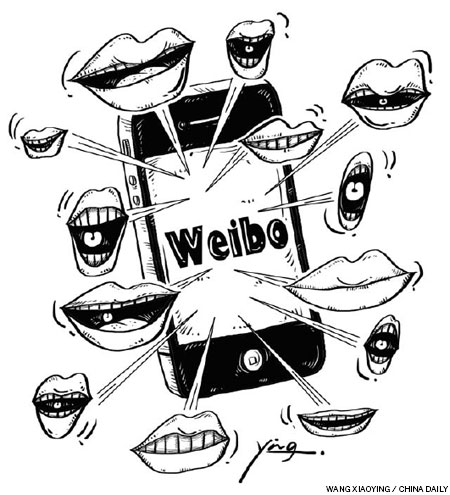 (China Daily 06/25/2011 page6)