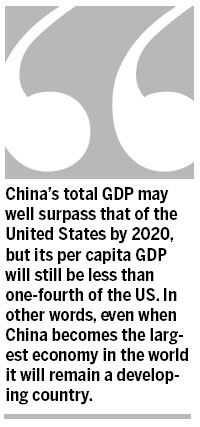 China has to create, not replicate, and ensure that its firms succeed overseas if it wants to become a truly big power
China may have overtaken Japan as the world's second largest economy earlier this year, but its efforts to create a compelling business environment for Chinese multinationals in developed economies lags far behind that of its eastern neighbor. The failure of China to emulate Japan or South Korea in developing world famous brands such as Toyota or Samsung highlights the weaknesses in its domestic economic structure, which continues to dent its global competitiveness.
There is evidence, though, that China's "go-global" strategy is gathering momentum. According to Asia Society, Chinese overseas direct investment could reach $2 trillion by 2020.
China's further economic growth is tied to the fate of its multinationals. If Chinese companies fail to create an impact on ultra-competitive Western markets, then it is highly unlikely that China will sustain its rapid economic growth for another 20 or 30 years.
The uncomfortable truth is that Chinese State-owned enterprises (SOEs) lack experience of genuine competition. For SOEs, profits have been too easy to come by. Last year, the combined profit of China's two most profitable SOEs was equal to that of the largest 500 private companies.
The SOEs lack incentives to innovate and develop technological expertise capable of rivaling Western giants. Unlike South Korea and Japan, China has a seemingly limitless domestic market and its companies can record impressive growth without crossing borders.
I have met with the chairmen of two of China's largest private companies, both of whom were among the country's top five richest men according to the Hurun Wealth Report. Neither has ever had any plan to enter the developed markets overseas, for they fear high risks, and are handicapped by poor technology and products that often fail to meet minimum quality standards of the European Union.
Besides, private enterprises in China lack State support, and find it difficult to expand their business scale and, more crucially, get bank loans. The discrimination that still plagues the private sector in China is reflected in the fact that two-thirds of all bank loans are channeled to the public sector, even though it accounts for only 15 percent of the country's employment.
Graduates and other highly qualified people are lured by the prestige and higher pay that working for government organizations and SOEs in China bring. Many people join the private sector as a last resort. Salaries in the public sector are 1.8 times higher than in the private sector, and a government job offers attractive pension and far greater job security.
China's global march has centered on energy deals and mergers and acquisitions (M&As). It has enjoyed great success in ensuring stable supply of natural resources, securing loans-for-oil deals and buying majority stakes in Western mining companies. M&As do help accelerate China's push into Western markets. But how long can such a strategy be sustained? M&As carry high price tags, and China is not yet adept at managing the purchased assets.