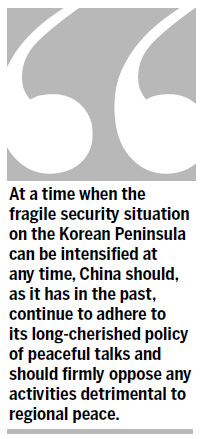 China should unwaveringly continue its efforts to end the lingering Cold War confrontation on the Korean Peninsula
The consolidation of alliances between the United States and the Republic of Korea (ROK) and between the US and Japan, as well as the strengthening of ties between Japan and the ROK in recent years, has further intensified tensions on the Korean Peninsula, the world's only region that has remnants of the Cold War, and made it an urgent task to promote denuclearization on the peninsula and maintain its peace and stability.
In late 2010 and early 2011, the Democratic People's Republic of Korea (DPRK) and the US, two key rivals in the region, had some engagements under the brokering of China, which to some extent eased tensions on the peninsula. In the meantime, the DPRK embraced a restrained attitude toward the joint military exercises conducted between the US and the ROK and expressed its willingness for engagement with Washington and Seoul and the unconditional resumption of the stalled Six-Party Talks. It even said it would agree to discuss its uranium enrichment plan during talks.
In response, the US put forward a plan for three-stage talks, with talks between the two Koreas first and then consultations between itself and Pyongyang. Only after that, it said, would the six-way talks be resumed.
At the same time, warmer ties between China and the US, Japan and the ROK since the start of this year, together with its improving ties with the DPRK, have brought some positive effects to the evolution of the Korean Peninsula situations.
However, the stances between the US, the ROK and Japan on one side and the DPRK on the other have so far remained widely divergent on how to resume the Six-Party Talks, which also comprises China and Russia. In particular, Washington and Seoul still remain suspicious of Pyongyang's motive in returning to the long-stalled talks, demanding Pyongyang take concrete actions to show its sincerity before the restarting of the multilateral talks.
Since last year, some positive trends have emerged within the DPRK, such as the greater importance it has attached to reforms and improving people's livelihoods. To ensure a smooth transition of political power and extricate itself from lingering economic and security dilemmas, the country has made goodwill gestures to China in the hope of acquiring more support from its neighbor, as indicated by the three visits to China by its supreme leader Kim Jong-il since last May.
As an influential country in this region and a major neighbor of the DPRK, China should take pragmatic steps and implement forward-looking policies to maintain peace and stability on the Korean Peninsula and reinforce its own security interests in the face of the complicated regional situation.