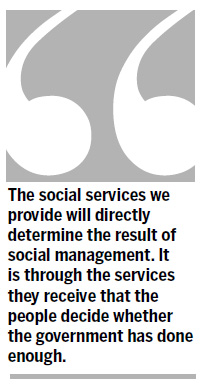 People-centered governance needs coordinated efforts from the Party, government, society and the public
Ever since the Central Committee of the Communist Party of China held a seminar on social management for ministerial officials in February, social management has become a central issue at all levels of administration in China. It was also listed in the 12th Five-Year Plan (2011-2015) of some local governments including Beijing.
Moreover, at the end of May, the Political Bureau of the Central Committee of the Communist Party of China also held a special meeting on strengthening social management, pointing out its importance to China in the coming years. The meeting highlighted the fact that the task of social management is very difficult because China is in an era of both strategic opportunities and social transformations.
Without doubt social management is an indispensable part of China's future development. However, talking about this issue, we must have a clear answer to some important questions: What is social management, and what are its relations with social construction and social services? What are the most urgent problems in social management we face today? How can we make social management more effective?
In my opinion, social management refers to all government management and services in public fields other than economics, politics and culture. As an important part of the social construct, social management seeks to promote the orderly development of society by coordinating various interests and resolving social conflicts.
Social management is essentially a people-centered concept that can be best realized through providing proper social services. The government plays an important role and shoulders a strong responsibility in social management and services.
But of course, the government is not the only body offering such services. Along with the development of a market economy, social organizations and the public are playing an increasingly more important role in the process. That's also why the Party emphasized the coordination of the Party, the government, society and the public in its plan for social management, as all four parts are essential and indispensable.