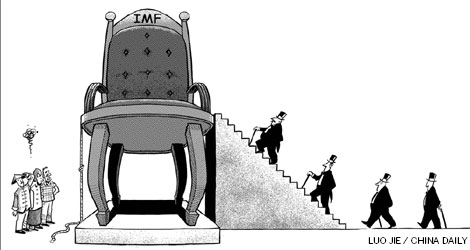 The arrest of Dominique Strauss-Kahn on charges of sexual assault was followed by his resignation as managing director of the International Monetary Fund (IMF). This has sparked a race for his successor, one of the world's top two finance posts.
European leaders were quick off the mark, arguing that a European should occupy the post again according to the old but discredited tradition. It has been increasingly recognized that the convention of a European IMF managing director and an American World Bank president can no longer be justified.
People for the two posts should be selected from any country according to merit, not on the basis of being Europeans or Americans, which is a colonial or neo-colonial principle.
Related readings:


 BRICS calls for end of European dominance on IMF chief


 PBOC adviser: US clout impedes reform of IMF  


 Who should be the next chief of the IMF?


 Mexico urges united front in battle for IMF post
Candidates from developing countries should have an equal chance, especially since the countries have increased their share of global gross national product, and many of them (especially China and other Asian nations) have large foreign reserves.
The international media have mentioned well-known figures from India, South Africa, Singapore and Turkey who could succeed Strauss-Kahn. But the European Commission president and political leaders of Germany, France, Italy and other European countries insist on another European, giving reasons such as Europeans are the biggest creditors, are facing a serious crisis and have candidates of merit.
Ironically, the apparent "front-runner" is another French national, Finance Minister Christine Lagard. Why should a French national succeed another French national who had to resign in disgrace? And why has the top IMF post been held disproportionately by French nationals (for 35 of the 64 years of the IMF's existence)?
European leaders are arguing that the IMF chief needs to be a European because much of the present IMF loans in value are going to European countries such as Greece, Ireland and Portugal, and Europe is facing a serious financial crisis. They argue that a European IMF chief would be best suited to deal with the European crisis because he/she should or would understand the region better.
This is a strange argument, fraught with double standard. When East Asian countries suffered a debt crisis from 1997 to 1999 and the IMF's main clients became Thailand, Indonesia and South Korea, no one argued that the IMF should be led by an Asian because he/she could understand the region's problems more deeply.
Similarly, there was no chance of an African or South American occupying the higher posts of the IMF even when many countries in those regions faced financial crises and were the main borrowers in the 1980s and 1990s.