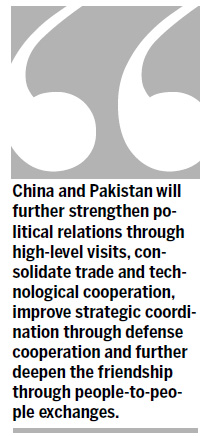 High-level visits and dialogues are consolidating and expanding strategic partnership of China and Pakistan
The year 2011 marks the 60th anniversary of the establishment of diplomatic relations between China and Pakistan and has been declared the "Year of China-Pakistan Friendship".
On the eve of the anniversary, Pakistani Prime Minister Syed Yusuf Raza Gilani is paying an official visit to China, during which the leaders of the two countries will exchange views on ways to boost the traditional friendship and issues of common concern and sign a series of cooperation documents.
Related readings:


 Pakistan PM visits China to boost ties


 Kerry presents US demands to Pakistan


 Gunmen kill Saudi diplomat in Pakistan


 Pakistan confident of winning anti-terror war
Pakistan was among the first countries to recognize the People's Republic of China shortly after its foundation and diplomatic relations between China and Pakistan were established on May 21, 1951. Over the past 60 years, thanks to the joint efforts of both governments and peoples, the two countries have become good neighbors and friends offering mutual support.
The international arena has witnessed numerous vicissitudes during those 60 years. But though different in history, culture and social systems, China and Pakistan have, through long-term close cooperation, established a strategic partnership.
This strategic partnership has a number of distinctive features:
First, the strategic coordination is continuously strengthening. China and Pakistan have maintained frequent and close high-level visits and contacts. Prime Minister Gilani is now paying his fourth visit to China since taking office in March 2008. In December 2010, the two sides decided to establish an annual mechanism for meetings between the national leaders and a regular dialogue mechanism of foreign ministers with the purpose of exchanging opinions on major bilateral, regional and international issues in a timely manner and strengthening cooperation and coordination in important international organizations.
In addition, China and Pakistan have so far held four strategic dialogues. The strategic implication of Sino-Pakistan ties has already gone beyond the scope of bilateral relations with extensive regional and international significance.
Second, all-round cooperation in multiple areas has been conducted, not only between the two governments and their departments, but also between the Communist Party of China and major political parties in Pakistan, and between social communities and civil societies.