Fuzhou's 2016 lantern festival to light up
( chinadaily.com.cn )
Updated: 2016-02-17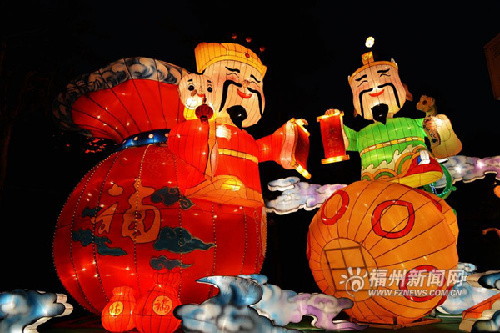 Fuzhou put its festival lights through a test, on Feb 16, for the 2016 Fuzhou Lantern Festival. [Photo/fjsen.com]
The 2016 Fuzhou Lantern Festival will start on Feb 18 (the 11th day of the Lunar New Year) and run for five days in Fuzhou, Fujian province.
The festival will be held in five districts with different themes. The event in Gulou district will be blended with 3D effects and feature the elements of the Year of the Monkey, folk culture, celebrity stories, intangible cultural heritage and Gulou's social and economic achievement.
The Taijiang district will set three groups of large lanterns and 10 groups of middle and small lanterns along a one-kilometer stretch, highlighting Taijiang's business and water cultures.
The show in Cangshan district will be themed on the National Youth Games while the six large lanterns in Jing'an district will showcase Jing'an's historic culture and folk customs.
The Maiwei district will have 115 lanterns of different sizes, shapes and styles, with a focus on cross-Straits communication and Spring Festival.
Adopting a frugal style, Fuzhou will recycle the large lanterns and donate the small ones to communities, ferry terminals, schools and charity houses.