Most cities report poor air quality for 2015
( China Daily )
Updated: 2016-02-05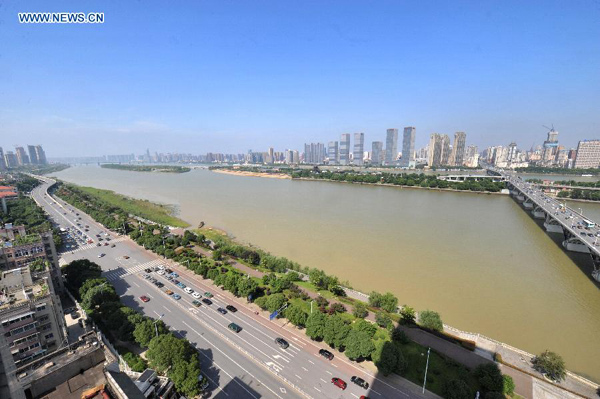 The downtown area of Changsha, capital city of Central China's Hunan province,June 5, 2015. [Photo/Xinhua]
But for the nation as a whole, air quality improved last year and the concentration levels of three major airborne pollutants-sulfur dioxide, nitrogen dioxide and PM10-fell by at least 6.3 percent, Luo said.
The average concentration levels of PM2.5 and PM10 in the 338 cities monitored fell by more than 11 percent year-on-year, the report said.
For the 74 major cities, 11 reported good air quality, three more than in 2014. Of these cities, air quality better than the national standard was reported on 71.2 percent of the days last year, demonstrating that efforts to control air pollution had worked, the ministry said.
"But in the north, we have more problems when it comes to improving air quality," Luo said, adding that curbing pollution this year is still a priority for the governments concerned.
The ministry said the Beijing-Tianjin-Hebei region has launched a pilot project involving an emergency response to smog. The project took effect on Thursday and will end on March 31.
Cities in the trilateral region will take the same emergency actions under unified alert levels, the ministry said in a statement.
When smog affected the region in December, different cities adopted different emergency responses to the severe pollution.
The ministry has told cities in the region to make joint efforts to control air pollution, which will be a more efficient system, the statement said. It added that the core cities of Beijing, Tianjin, Tangshan, Baoding, Langfang and Cangzhou will take the lead on this.
After the pilot project, the joint emergency response system will be expanded to more cities, the ministry said.