Pingnan joins hands with Alibaba
( chinadaily.com.cn )
Updated: 2015-09-02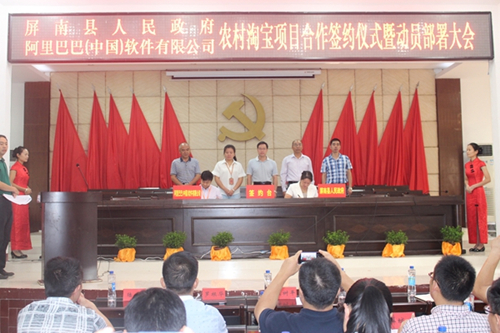 Pingnan government makes a deal with Alibaba to foster online business on Aug 31. [Photo/pingnan.ccoo.cn]
Pingnan government made a deal with Alibaba to foster online business on Aug 31.
Chinese e-commerce giant Alibaba launched a program in 2014 to invest 10 billion yuan ($1.57 billion) to enlarge its online business within three to five years.
It has planned 1,000 county-level service centers and 100,000 village centers across China.
Official statistics show that 2,800 of Pingnan's 200,000 residents are engaged in e-commerce.
Some 30 companies, including Sky Farm, reached 732 million yuan totally in online transactions last year.
According to Ali Research Institute, Pingnan had the 26th highest e-commerce development index among Fujian's counties in 2014 and the 152nd highest nationwide – with a lot of room for growth.
To speed up e-commerce, the local government will allot 2 million yuan each year from 2015 to 2017.
The special fund will cover charges for water and electricity, property fees and advertising.
Pingnan will also use 5 million yuan from the provincial financial subsidy fund for logistics, training and construction.
In addition, the government unveiled preferential policies for taxation, financing and land.
The county has already set aside 66,667 square meters of land in its eco-city for an e-commerce industrial park.