Wan'an Bridge in Pingan, China's Fujian
( www.chinadaily.com.cn )
Updated: 2012-01-29
Bridges are not just for crossing rivers in Pingnan, they are icons of the little-known county in northeast Fujian province.
Locals claim that Pingnan was once home to more than 100 of these distinctive wooden bridges that were recognized by UNESCO in September as an intangible cultural heritage.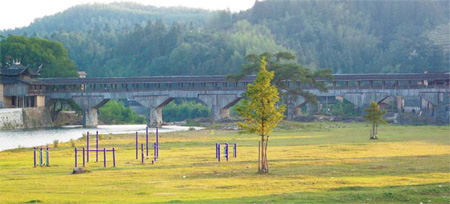 The picture above is the 1,000-year-old Wan'an Bridge in Pingnan county, East China's Fujian province.
Currently, there are just 15 of the bridges, two of which have just been rebuilt. The 1,000-year-old Wan'an Bridge is the oldest and the longest wooden bridge in the country, measuring 98.2 m.
The other remaining bridges have been renovated and still play a significant role in village life. Every day you can see streams of villagers pouring across, tools in hand.
When they have leisure time they chat or play chess on the bridges, while their buffaloes chew grass on the river's bank. On summer nights, some villagers sleep on the bridges because it is cool and free of annoying mosquitoes.
Bridges here are often connected with religion and there is a local saying that: "Where there is a bridge, there is a temple."
It is usually located at one end of the bridge and has either Buddhist or Taoist gods, but some villagers worship gods originating from local folktales.
In a temple next to Wan'an Bridge, for example, there is a statue of the Monkey King, the main character from the classical Chinese novel Journey to the West.
There are also some shrines on the bridge, but believers have to be careful when they burn incense as several bridges have burned down.