Wooden Arcade Bridges in Pingnan
( chinadaily.com.cn )
Updated: 2011-04-06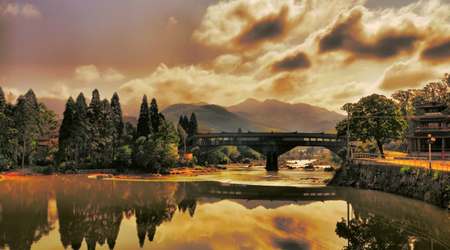 The oldest wooden arcade bridge in Pingnan was first built in the Song Dynasty (960-1279). Other bridges in the town were first built in the Yuan (1271-1368), Ming (1368-1644) and Qing (1644-1911) dynasties. Today's wooden arcade bridges have been rebuilt or repaired many times.
According to records in the old county annals, village history and bridge tablets, the bridges first built in the Song Dynasty (960-1279) are Wan'an Bridge, Qiancheng Bridge, Longjing Bridge, Baixiang Bridge and Guangli Bridge; the bridge first built in the Yuan Dynasty (1271-1368) is Guangfu Bridge; and the bridges first built in the Ming (1368-1644) and Qing (1644-1911)dynasties are Longjin Bridge, Jinzhao Bridge, Qingyan Bridge, Huifeng Bridge, Xili Bridge, Zhangkou Bridge and Yingfeng Bridge.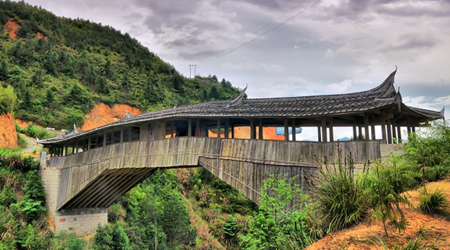 The wooden arcade bridges in Pingnan basically each adopt the same wooden arch structure, in which 61 round cedar longitudinal beams and 10 transverse beams are connected with mortises and tenons to form a splayed bridge arch. Eight beams constitute four "X"-shape scissor forks to prevent the bridge arch from swaying left and right, rods are inserted into the arch to form the arch support, and planks are transversely paved on the support to form the bridge deck.
A bridge house, adopting a column and tie construction containing 4 columns and 9 purlins, is built on the bridge deck, and the house adopts a double-slope roof or an overhanging gable roof. The whole bridge doesn't have a single nail and is joined together with inlaying of purlins and rafters. The structure is stable. The bottom is arced and the deck is flat.