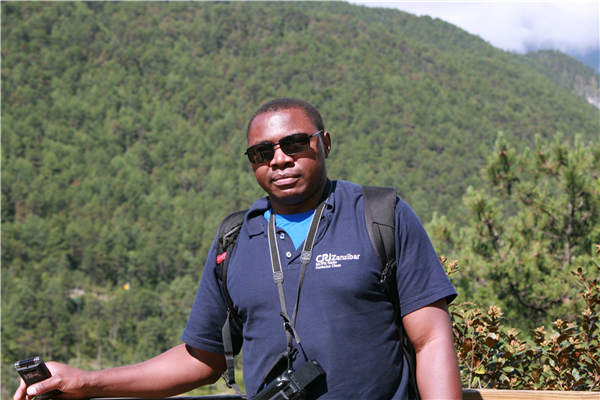 [Photo provided to China Daily]
In addition to seeing China's rapid development during his stay, Mpunji has witnessed many major events like China fighting the SARS epidemic in 2003, Beijing hosting the Olympics in 2008, Shanghai hosting the Expo in 2010 and China launching its Shenzhou manned spaceships from 2003 onward.
"I'm lucky to have been one of the few foreigners to witness China's progress closely," says Mpunji.
Mpunji's work has allowed him to travel to more than half of the provinces in China, from the developed coastal areas to remote regions, and he has been impressed by the local hospitality.
"Although Chinese people are generally reserved, it's easy to make friends with them after talking for a few minutes," says Mpunji.
After staying in China for more than a decade, he has developed a taste for Chinese food. He can easily name a few of his favorite dishes in Chinese.
In the early days, language was the greatest challenge for him. The worst experience, he says, was on the first day he arrived.
He spent a long time wandering the streets trying to find a restaurant for dinner. He tried to ask many passers-by but failed to communicate effectively.