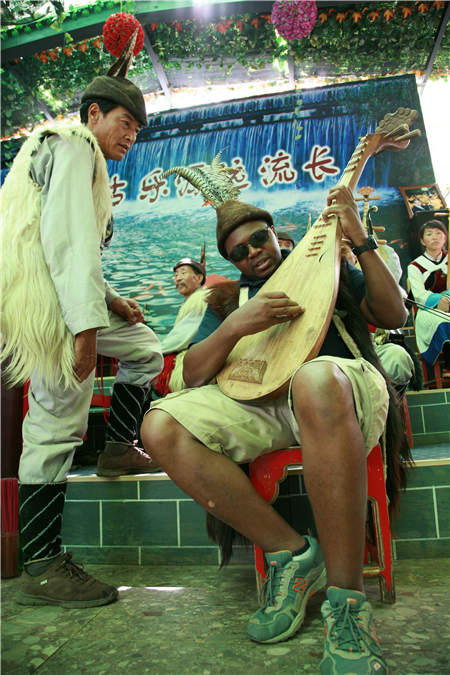 Fadhhili Mpunji, who has traveled to about half of the provinces in China, learns to play a Chinese instrument during his trip to Yunnan province. Photos provided to China Daily
Fadhhili Mpunji, a radio producer from Tanzania, says he is 'stuck' in Beijing for more than a decade - and is loving it. Liu Xiangrui reports
China always made Fadhhili Mpunji curious. The 42-year-old journalist from Tanzania was familiar with Chinese during his childhood: They stayed in his hometown to help operate a railway built by a Chinese company in the late 1970s.
Besides, he was intrigued by kung fu movies and watched Chinese gymnasts at the Olympic Games on TV. He briefly studied Chinese history and politics in college.
Mpunji worked for the Tanzanian Broadcasting Corporation before coming to China in 2003 as part of a cooperation program between his former employer and China Radio International. He has been working as a producer for CRI's Swahili service since. He writes reports and records programs that introduce China to African listeners.
Mpunji has paid close attention to the deepening of ties between China and Africa. The cooperation and trade between the two sides have benefited African people's lives, Mpunji says.
When he got his first cellphone in 1994, he was among some 3,000 people in his country to own such a gadget. Now nearly half of its population of 50 million are using cellphones, lots of which are imported from China.
In 2013, Mpunji broadcast programs on President Xi Jinping's visit to Tanzania, among his earliest state visits.