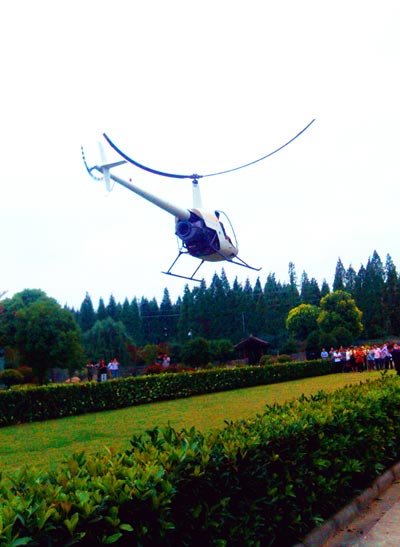 The helicopter built and piloted by an entrepreneur delivers a bride to her wedding venue in Changzhou, Jiangsu province. Wu Kai / China Daily
The newspaper reports the proliferation of heliports in Jiangsu means companies and couples often rent choppers for ceremonies and weddings.
Suzhou Industrial Park Heliport Base has received more than a dozen rental requests since it opened this month, and about 50 individuals are undergoing pilot license training there.
The base is offering itineraries for tourists to take 10-minute flights over Suzhou and the provincial capital Nanjing for less than 1,000 yuan after the National Day holiday.
The Suzhou base is the second heliport owned by Ruo'er General Aviation Development Group, which opened the Nanjing Laoshan Heliport Base in 2009.
But sky-high demand and the entrepreneurial zeal of people like Shen seem to suggest Jiangsu's helicopter industry is just getting ready to take off.