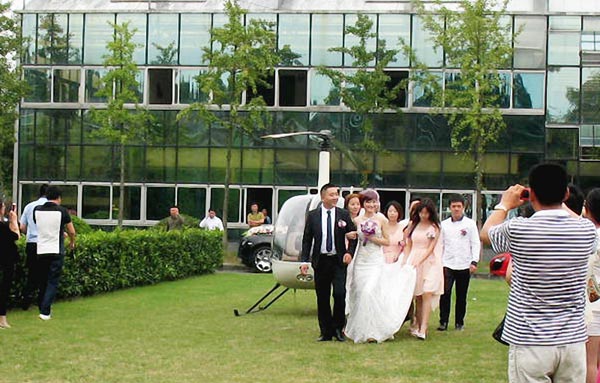 The helicopter built and piloted by an entrepreneur delivers a bride to her wedding venue in Changzhou, Jiangsu province. Wu Kai / China Daily
The entrepreneur began tinkering to create his own aircraft in 2008. Last year, he successfully test flew his first handmade helicopter.
He and his team made all the parts aside from the engine and main rotor, which are imported.
Shen has since built four choppers. Production costs range from hundreds of thousands to 1.5 million yuan.
Shen doesn't have a pilot's license. But he says he's undergoing training and should receive one soon.
"It's more dangerous to fly than drive," Shen told the paper.
He says he has flown 120 hours since he took up piloting.
The amateur pilot has also shirked requirements to apply for airspace from air traffic control, record flight plans and get his helicopters certified as airworthy.
He tells Modern Express he has submitted the relevant documents several times but in vain.
Still, he has even higher ambitions. Shen plans to start a light-sport aircraft project in Changzhou related to tourism and pilot training with a 50 million yuan investment.