Homemade helicopter helps wedding take off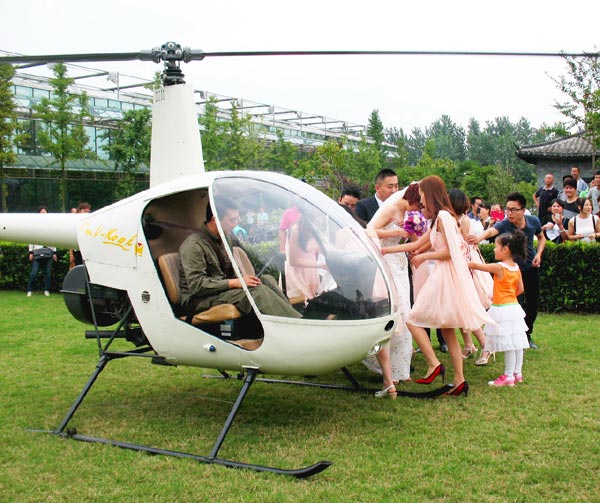 The helicopter built and piloted by an entrepreneur delivers a bride to her wedding venue in Changzhou, Jiangsu province. Wu Kai / China Daily
It was a fairytale wedding-with a contemporary twist.
Rather than ride in a carriage conjured from a pumpkin by a fairy godmother to meet Prince Charming at his palace, the bride in Jiangsu province's Changzhou city arrived in a helicopter built by a friend to meet the groom at a hotel.
It's not uncommon in the city to rent a chopper for the big day. But what made this ceremony special is that the aircraft was built by the groom's friend, a 40-year-old local entrepreneur who only gave his name as Shen to the Modern Express newspaper, which reported on Tuesday's wedding.
The original plan was that Shen would fly over the ceremony to snap photographs. But friends suggested he should also bring the bride.
His chopper is similar to the Robinson R22-a popular two-seat American civilian aircraft.
An hour's flight costs him about 2,500 yuan ($407). He can fly about 500 kilometers on a full tank of fuel.
Shen became infatuated with aircraft as a child, and the idea of building his own came to him when he saw helicopters on TV two decades ago.
He moved from his hometown Yancheng to Changzhou to start his own company in the 1990s, and his dream of flight came to preoccupy him as his income swelled.