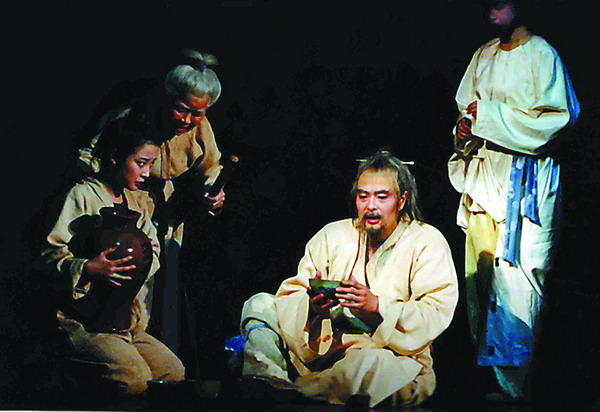 Provided to China Daily
AIDS was a taboo topic when Pu joined the campaign in 2000, but such is his fame that his intervention resulted in the lifting of an official ban on anti-AIDS propaganda. Now, he spends a lot of time every year traveling the length and breadth of the country delivering speeches and helping distribute medicine, condoms and pamphlets.
"Once, I was distributing pamphlets with some colleagues, and a number of people with AIDS all came and surrounded us. One of them, a tall, beautiful woman, just stood and looked at me with ice in her eyes, so I made my way through the crowd and handed her a pamphlet. She seemed to think it was funny and she smiled. I was very happy," Pu said with a grin.
"I get the same feeling from my charity work as when I hear the audience applauding in the theater," he said.
Although he's influential among Chinese people, Pu finds his hands are tied when it comes to his own "working unit", the BPAT. He's worked for the theater since 1985, but his links go back much longer because his father was the vice-president and Pu grew up in the theater compound.
When he became the managing president in 2003, he devoted himself to the theater's reform. Three years later, having realized the difficulty of achieving meaningful change, he rode a bike to the offices of the Beijing government, which administers the theater, to hand in his letter of resignation.
Despite that admission of a rare failure, as vice-president Pu still believes that the State-owned outfit badly needs to formulate a system that will protect and nurture genuinely creative members, while saving money by allowing the less effective ones to be let go.
"My dream now is to do what I do to the best of my ability. I don't want to confuse or upset myself any more," he said.
"I hope that when I leave the stage, it will be as though I'm at a card table, laying down a handful of jokers, then getting up and walking away."