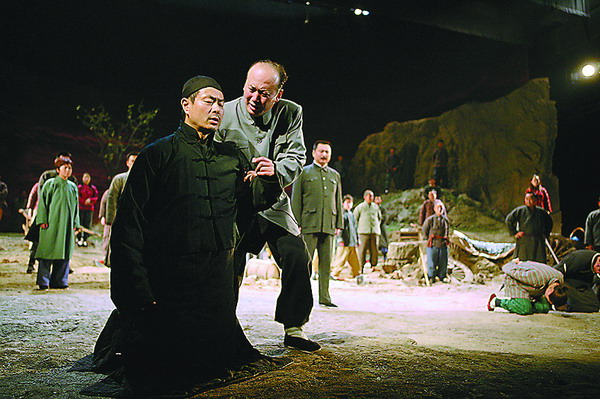 Provided to China Daily
In 1969 when he was just 16, Pu - whose father was a Beijing-based playwright - was labeled an "educated youth" and sent to "learn from the peasants" in Hegang, Heilongjiang province, in China's northeastern tip. He has received no formal education since then.
He planted corn and potatoes for eight years before he returned to Beijing after passing an audition to become an actor with a military theater company. Initially, things didn't go well, and for the first decade of his acting career he was criticized for being "bookwormish" and reserved.
"There is thinking behind every line. The process is like a leaf carried by a stream - at certain places the water forms a whirlpool and the leaf circles around the same point, but then the water breaks free and moves on, carrying the leaf with it. The human mind is the water, always flowing, never stopping," Pu said, recalling the words of one of his drama tutors.
"Now I've learned that sympathy is the key to acting and to life. Every person should be the object of sympathy," he said.
He cited the example of Zhou Ping, the character he played in Thunderstorm, a classic Chinese drama about tradition and hypocrisy in a wealthy, somewhat Westernized, family in the early 20th century.
In the play Zhou, the eldest son, struggles between his "master" father, the stepmother with whom he has an affair, and a maid he likes, until eventually he commits suicide.
"People always criticize Zhou Ping, but he was neglected throughout his formative years. His adult life is so lackluster in the family's big mansion. How pathetic he is! He deserves sympathy," Pu said.
Good causes
In almost every city, large or small, and in the countryside, photos of Pu's smiling face have been pinned up on bus stops, walls and facades.
That's because he is the public face of a number of good causes: a national AIDS-prevention campaign; promoting of blood donations; and in the fight against child trafficking.