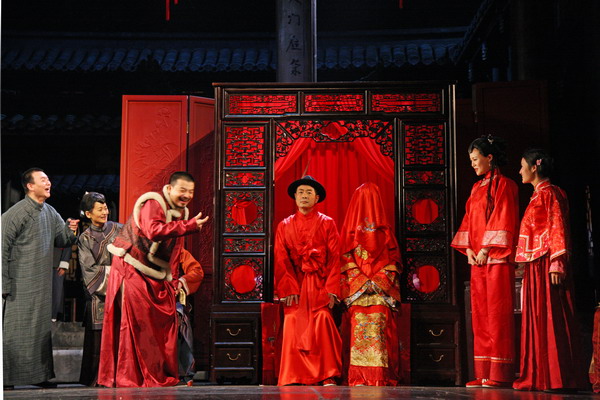 Provided to China Daily
After lunch, Pu was to attend rehearsals for Xiaojing Hutong, a play about families in a hutong, or alley, in southern Beijing between the 1950s and '70s, which mocks the absurdities in political campaigns.
The piece, created by the Beijing People's Art Theatre in 1985, has been restaged regularly since 2013. Pu is the lead actor. "We are the only theatre that regularly stages a play about the `cultural revolution,'" Pu, who is also vice-president of the BPAT, said with great pride.
Fragile, tragic
Seen mainly wearing a blue jacket made from coarse cloth, Pu plays the part of a worker whose great humor, rosy optimism and incredible resilience help him to assist his neighbors during a period that stretches from the Great Leap Forward (1958-60) to the end of the "cultural revolution".
However, he is better known for playing fragile, tragic intellectuals; Li Bai (701-762), the great poet of the Tang Dynasty (618-907), and Lu Xun (1881-1936), the most revered author in modern Chinese literature, are among his most celebrated roles.
He was also Li Shutong (1880-1942), the first Chinese educator to bring Western music to China and to use nude models in art classes, who gave up his family and status in middle age to become a Buddhist monk and is commonly known as Master Hongyi.
Pu's work isn't entirely founded in the Chinese canon, however, because he's also tackled famous Western roles, such as Hamlet, when Shakespeare's play was translated into Chinese and staged in several cities in 2008, and Willy Loman, the aging traveling salesman in Arthur Miller's Death of a Salesman.
Pu occasionally quoted from Chinese literature during our conversation, and made me a gift of a self-recorded CD of him reciting Chinese poetry.