The first multimedia live-stage drama premieres at Xiangyang
By Li Bo and Tu Yuguo ( chinadaily.com.cn )
Updated: 2014-08-12
On the evening of Aug 9, the first multimedia live-stage drama Caolu–Zhuge Liang was officially launched at the Caolu Theater of Longzhong scenic area in Xiangyang city, Hubei province.
The performance blends multi-media optical technology with representative forms of avant-garde drama, providing a cultural feast to more than 1,500 visitors from both home and abroad.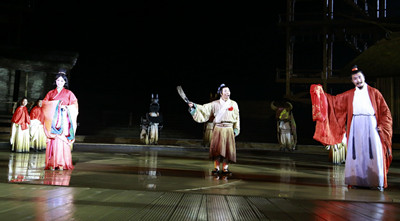 The stage photo of Chant of a Wife with Modest Appearance[Photo provided to chinadaily.com.cn]
The drama is divided into three acts: Longzhong Plan, Chant of a Wife with Modest Appearance, and Song of the Red Cliff. It retells the historical stories in the Three Kingdoms (AD 220-280), such as "Three Visits to Hut", a story which tells of how Liu Bei, then a general, visited Zhuge Liang's hut three times upon hearing about Zhuge's intelligence, to ask him for assistance to unify the country again.
Caolu Theater, the venue for the live performance, is located at a valley in Longzhong scenic spot, bordered by Qingshan Mountain to the north, and two lakes to the west and south. It covers a total construction area of 4,000 square meters and can hold 1,500 people. It is the largest theatre of its kind in Asia.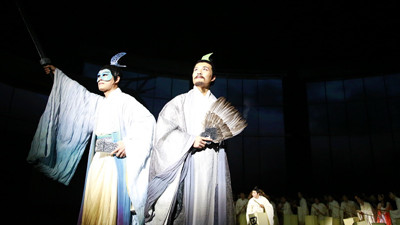 The stage photo of Song of the Red Cliff [Photo provided to chinadaily.com.cn]
Its central stage, with a diameter of 80 meters, is divided by a "yin yang fish" in the shape of a tai chi circle from the middle, implying the Chinese ancient philosophy of "unity of man and nature" and "completeness".
Each group of Caolu buildings can move within the arc, and also assemble into a 180- degree giant screen. Meanwhile, the center stage allows for lifting and falling, displaying dynamic scenes such as boats being paddled on flowing water.
The play was created by Ezhou Tourism Investment Co and Landscape Festival Culture Industry, the initiator of this live-stage performance in China.
Edited by Zhang Qiong and Brian Salter