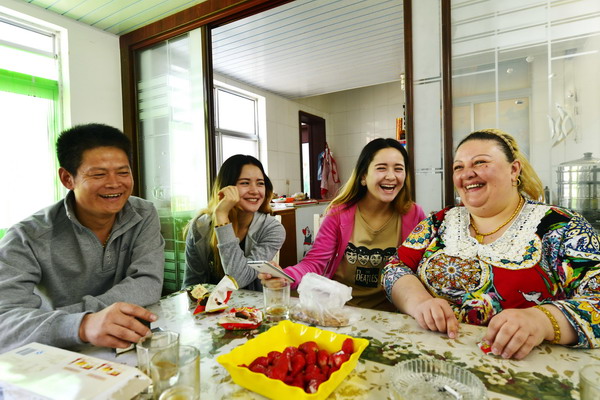 Armenian Militonyan Nune with her Chinese husband Deng Zhonggang and their twin daughters at their home in Rongcheng, Weihai, Shandong province. Ju Chuanjiang/China Daily
Even the cabbies know Militonyan Nune in Rongcheng, a county-level city of Weihai, Shandong province. The Armenian woman's cafe—and her pursuit of happiness in China—are well-known among local people.
Taxi driver Wang Hongjun says: "We all know about her story and her coffee bar and
restaurant
are popular among tourists".
Located at the Shidao port of the city, Nune's restaurant features a big photo of her family with "Love in China" printed on it in Chinese.
"You couldn't imagine how much I've gone through to get this," the 46-year-old says in Chinese, with a strong local accent.
Nineteen years ago, Nune worked as a hospital nurse in Yerevan, the capital of Armenia, where her father ran a factory and her mother worked as a doctor. She had a decent life: "I lived in a villa, had a car and drank wine every day."
But everything changed in 1995 when she nursed a Chinese man who worked at a mill in Yerevan.
"I got a fever and she nursed me for seven days like a family member," says Deng Zhonggang, now Nune's husband.
"When I was discharged from hospital, she gave me her phone number and told me if I had any problem in Yerevan, I could talk to her," the 47-year-old says.
Deng called Nune frequently and they started seeing each other.
"At first my mom opposed our relationship as she thought Zhonggang was not a match for me. But he worked hard to convince my parents that he could be a good husband," Nune says.
At a party, Deng made "fantastic dumplings" for her parents and friends, touching their hearts as well as tickling their taste buds.
Nune and Deng got married in 1996 in Yerevan. They had twin daughters the next year.
In 1997, the family moved to Deng's hometown, Zhanjiazhuang village, on the coast in Rongcheng.
"It was terrible," Nune says of her early life there.