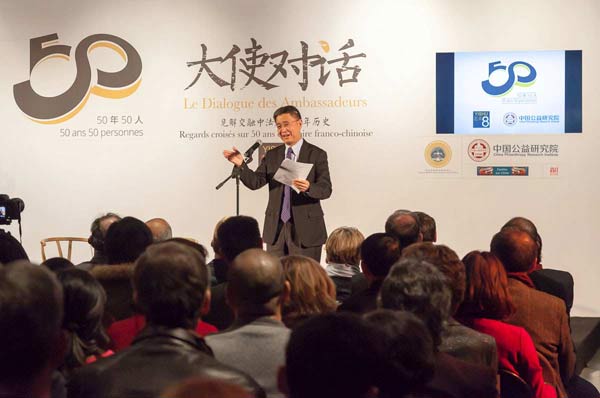 Wang Zhenyao speaks during a forum celebrating the 50th anniversary of Sino-France ties in Beijing Yishu 8. [Photo provided to chinadaily.com.cn]
The recent exhibition of 10 masterpiece paintings from France at the National Museum of China has made the 50th anniversary of Sino-France ties more artistic in nature. The anniversary, between the two cultures who both boast rich cultural traditions, will no doubt arouse a tide of communications in the field of art and culture.
Among them, a "50 years, 50 people" event launched by Yishu 8 and the China Philanthropy Research Institute devotes to commend people who have made noticeable contributions to Sino-French cultural exchanges. Wang Zhenyao, Dean of Beijing Normal University China Philanthropy Research Institute, is among the judges on the panel who will select 50 notable people. For a man devoted to charity and greatly influenced by French culture, what's his view of the relationship between art and charity? Let's listen to him now.
Q&A:
1.How did you come up with the idea of the "50 years 50 people" event to celebrate the 50th anniversary of diplomatic ties between China and France?
I think it is better to review the past in a visualized way with some typical examples. "50 years, 50 people" just conforms to that requirement. Nowadays, the development of Chinese culture is vigorous yet sluggish, so a great breakthrough is urgently needed. Reviewing the culture with some typical examples of excellent people will make this activity more influential and culture more flexible.
2. Do you have any special link with France? What's your understanding of French culture?
In my opinion, French culture was extremely brilliant from the Renaissance Period to the French Revolution. I have read a lot of French books, at least dozens of them when I was a college student. I used to eagerly read books written by French Enlightenment scholars such as Rousseau, Voltaire and Montesquieu, which aroused my reflection on China and the whole world. The influence of French culture on my generation is quite overwhelming and latent.
Wu Jianmin, the former Chinese ambassador to France once asked a question: "Returning students from which country have the greatest impact on modern China?" I answered "USA", as apparently many Chinese students are studying there. However, it seemed to be wrong when I thought twice. Following Wu's hint, I came to realize that it should be France, as Zhou Enlai and Deng Xiaoping, who determined China's development orientation, were both returning students from France.
3. How do those French books you read influence you?
Take The Spirit of Laws for example, it talks about cognition instead of some royal court stories, though France has as good such stories as Chinese. However, nowadays, Chinese culture is full of movies, sensational TV series and royal court stories, making its culture individual.
If a nation hasn't separated itself from individuality, I will say that this nation is irrational and weak. Being rational means you need to gain your cognition and analyze more.
Therefore, in my Master's thesis, I discussed China's political system and rationally analyzed how China's structure of power works before and after the year 1949. Then I put forward a set of reform plans.
Nowadays, I am still used to applying the principles from The Spirit of Laws to the regime design during my routine work.
Besides, Rousseau's Emile, or On Education also has a great effect on me. I used to study his point of view on education when I worked on early education. I benefit a lot from that and it still affects me a lot today.
4. How can one better combine philanthropy with culture?
The philanthropy began to unite with culture when it hit to the development stage of helping the poor. Modern civilization was created through public welfare. The social progress was mainly made around 100 years ago when over 100 universities were founded, including Harvard University, Stanford University, University of Chicago and the Johns Hopkins University. What's more, hospitals and libraries were also initiated by philanthropists. No civilization will exist without those infrastructures.
Most people in China think charity is only about helping the poor, but actually the power of charity is tremendous which can guide the whole society.
Charity and culture are closely attached with each other. The humanitarian spirit stemming from charity constitutes an important part of human culture. Charity cause will not go big without culture, and will be powerless without putting into cultural practice.