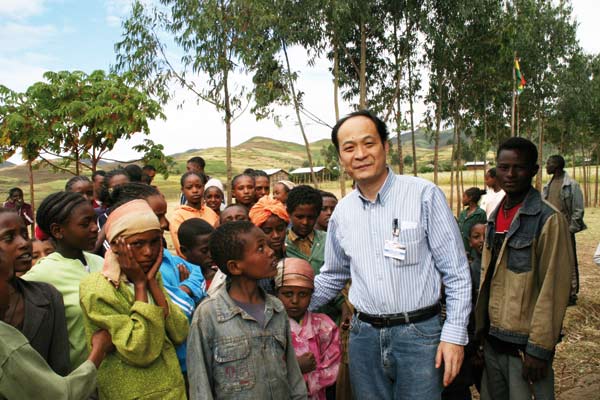 Wang Li with African students. He says China's achievements in rural education can be a valuable way to build bridges with many African countries. Photo/China Daily
Wang Li expresses both sympathy and hope when he recalls a rural school in Ethiopia he visited a few years ago.
"There was nothing in the school, only a blackboard, some chairs and a table, which all looked quite new. Apart from that, the rooms were as basic as they could be," he says.
However, what struck Wang the most was the realization that the entire school was built with between just 2,000 yuan ($320) to 3,000 yuan.
"I was shocked," says Wang, who is deputy director of the International Research and Training Center for Rural Education, which has been supporting rural education in China and other emerging countries for the past 20 years.
"This amount of money for businesses and organizations may not be enough for a meal. Yet if you give it to Africa, an entire school can be built, so many children of all ages could benefit."
He still vividly recalls the smiles on the children's faces as they gathered around him outside the school.
"Each face was different, but each smile was so beautiful. I was so happy to see them."
The center was founded in 1994, and it has two aims: to help China's rural education reform and to help China share its knowledge with other developing countries. Wang says the center has carried out many activities to achieve these two objectives, including research on different skills needed for inclusion in rural education, and rural women's access to education, and it has passed on what it has learned to other developing countries.
China's rural education reform has come a long way since the Chinese government officially made it an objective in 1984, he says.