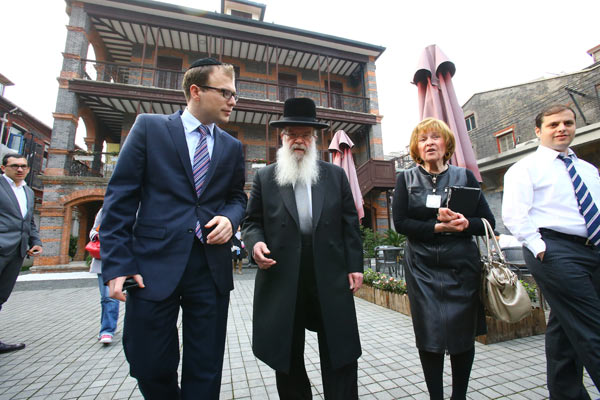 Chaya Walkin Small (right),who took refuge in Shanghai during World War II, was part of a delegation of 25 Jews who visited the Shanghai Jewish Refugees Museum on March 26. Wu Kai / For China Daily
Refugees who came to Shanghai to escape wartime persecution in Europe recently returned to the city to celebrate and give thanks, Zhou Wenting reports.
Chaya Walkin Small always wears two ornaments around her neck: a pair of 70-year-old gold cufflinks and a silver medal that she got nine months ago.
The Jewish woman born in Poland 80 years ago, who took refuge with her parents and siblings in Shanghai during World War II, says her father got the cufflinks from another Jewish refugee in Shanghai seven decades ago when the war was over.
"The cufflinks were made in Shanghai and they remind me of the time I spent here. There are two Chinese characters shou and fu, meaning 'long life' and 'happiness', carved on them," said Small during a visit to Shanghai late last month. She arrived in Shanghai in 1939 at the age of 5 and left for the United States at 12. She now lives in Chicago.
She says the cufflinks were given to her when her father died 30 years ago. She made them the pendant of a necklace.
Small, who was in the city among 23,000 Jewish refugees from Europe during the war, was in a delegation of 25 Jews who returned to show appreciation and gratitude to the city that gave them life ahead of 2015 - the 70th anniversary of the victory over fascist forces.
"We believe in miracles. The biggest miracle for us is our survival in Shanghai. We got an opportunity to live and we have a life," says Small, who could not hold back tears.
"No one kicked or destroyed us here. We could keep our religion, lifestyle and language," she says.
The delegation includes former landowners, some of their descendants and elite leaders in the Jewish community.