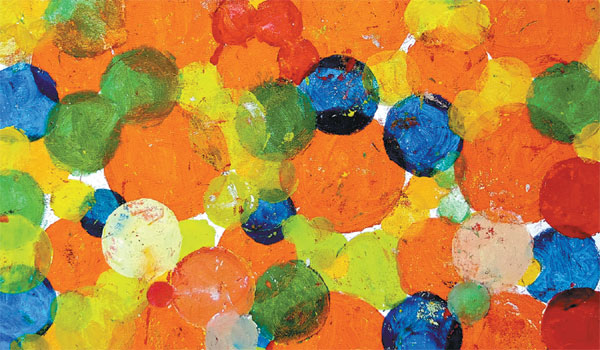 A work by a special-needs person, who learned painting at the Shanghai-based charity group heArtS' free weekly painting lessons. Provided to China Daily
The Chinese Dream | Guo Chenggang
A worried father finds that painting gives special-needs people new awareness and confidence, and the process brings community acceptance. Wu Ni chats with the founder of an empowering charity in Shanghai.
In 2010, Guo Chenggang suddenly found his 30-month-old son to be "unusual".
"He was unable to speak, very sensitive to sound and light. When playing in the kindergarten he would frequently turn to me - all symptoms of autism," Guo recalls. "I was full of guilt. My wife and I focused too much on work and had ignored our child."
He decided to return to his family, committing to taking care of his son full time.
His son's case proved to be a false alarm. As the boy grew older, the symptoms disappeared.
"I guess it was just a period of his growth, but I had gone through all the anxiety, fear and torture that parents of autistic children experience," he says.
Afterward, he says, he just could not get back on track and leave those experiences behind after learning so much about autistic children, their parents and families.
Today, Guo heads "heArtS", a Shanghai-based charity group that teaches art to mentally impaired people through free painting classes. The 36-year-old man from Wuxi, Jiangsu province, is not an artist himself and says he does not expect to discover the next Vincent Van Gogh.