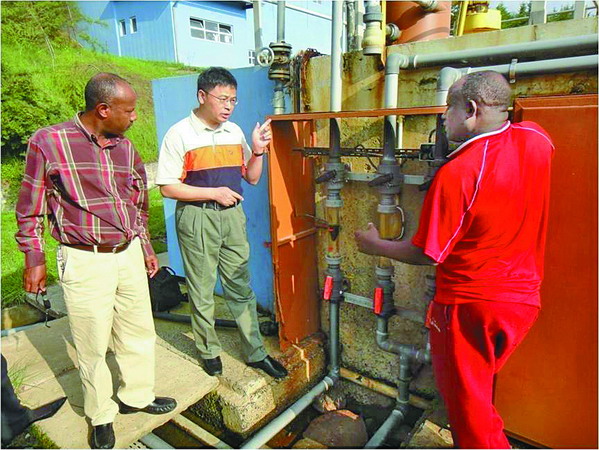 Li Fengting investigates a water treatment plant in Ethiopia. Provided to China Daily
Li Fengting gets excited when he talks about Africa. He has formed profound feelings for the continent over the past decade.
"Every time I get in a plane heading for Africa, I am always brimming with anticipation and excitement. It's just like coming home because I know everything and everyone there," says the 50-year-old, who often jokes that he goes to Africa more than he visits his hometown in Shangdong province, less than a two-hour flight from
Shanghai
.
Li is the vice-dean of the College of Environmental Science and Engineering and UNEP-Tongji Institute of Environment for Sustainable Development (IESD) at the Shanghai-based Tongji University. The institute was co-established by the United Nations Environment Program (UNEP) and Tongji University in 2002 for the purpose of strengthening scientific research and providing educational programs in environment and sustainable development.
Since then, Li, as the head of the institute and scientific specialist to UNEP, has been devoting himself to the supply of safe water resources in Africa, which is facing severe scarcity of ecological resources.
Climate change and soaring demand for economic development has led to a shortage of safe water, and has become a top priority for leaders in Africa.
In order to improve the technological ability in African countries, China's Ministry of Science and Technology (MOST) and UNEP signed the Memorandum of Understanding on Technical Cooperation on Water Resources in Africa in 2008. Marking the start of the Technical Cooperation on Water Resources in Africa with 16 African countries. Ten projects were launched in Africa, mainly relating to water treatment.
Under the UNEP-MOST-Africa water project, a series of projects on safe water supply and technology were implemented by Li and his research team.