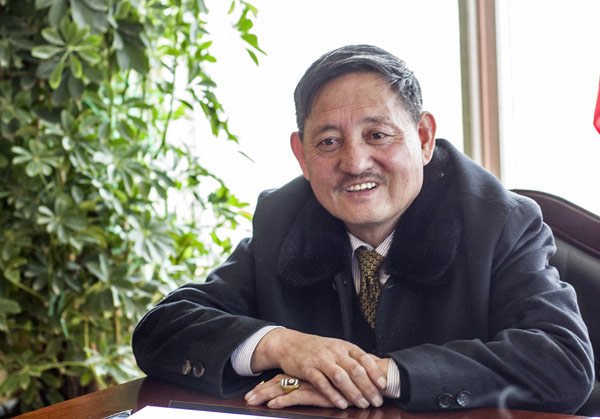 Qunpei Tsering has pledged to use his wealth to benefit the people in Tibet. Zhang Hao / For China Daily
Forty years ago, 150 yuan ($63 then) was all the money Qunpei Tsering had to his name. Now, as the Tibet autonomous region's first billionaire, he has pledged to use his wealth to benefit the people living in the region.
The 61-year-old operates 12 companies in his native Xigaze prefecture, with interests in businesses as diverse as real estate, a highland barley wine factory and a local driving school. "I thought, what if one of them goes out of business? So I set up businesses in different fields," he says.
The conference room in his office has a wall full of bronze "model business" awards and banners from charities thanking him for his generosity. The windows offer views of one of Qunpei Tsering's successful hotels.
He talks about a 760-million-yuan ($122 million) investment in an agricultural base, money he casually mentions he has on hand, no loan required.
The fortune he has made from scratch is impressive, but Qunpei Tsering, who has only three years of schooling and speaks broken Mandarin, says: "Personally, I don't have a secret to success.
"But it no doubt has a lot to do with all the favorable policies and the reform and opening-up."
Government-led reforms have played a major part in his life since 1959, when serfs in the autonomous region were freed. Qunpei Tsering's parents were serf-herders. It was the first time they were given shelter and property - a small plot of land, 17 sheep and 2 yaks - of their own.
But with more than 10 mouths to feed, the family still struggled. At the age of 18, Qunpei Tsering decided to earn his own living and became a carpenter, starting out with 150 yuan for materials.
By the early 1980s, he sensed the winds of change.