Dashing forward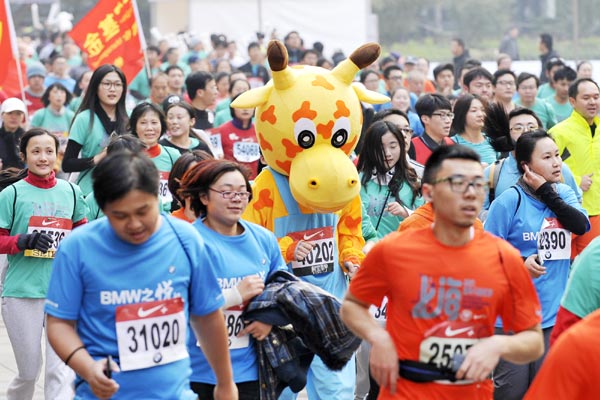 Runners compete in the Shanghai Marathon on Dec 1, even though the city's air pollution hit a record high that day. Photo by Gai Erqiang / China Daily
Saving face
Running may also be growing in status among parents and young boys. Most of the schoolchildren involved in a recent race were boys — led by a female teacher from England.
"It makes their parents proud if the kids do well, especially for the ones that aren't so strong academically. Chinese are very competitive," says Liverpool's Bridget Water, who started the running club at Shanghai United International School two years ago.
"This is the first time the kids have made their own way to a race, so you can see that the enthusiasm is building. The grade-sixes even do their own warm-ups now."
Twelve-year-old Charles Wang, from Taiwan, said he didn't have much choice.
"Mostly my mom wanted me to race and secondly you can get medals," he said.
"That's important — to show off to your friends or whatever."
Garner said the potential loss of face may have kept local men from getting involved in the sport earlier. The generous financial incentives local clubs now offer Chinese runners is another factor shifting the balance.
"I remember signing up for the longest race I could find in Beijing in 1996, which was 3,000 meters, and there was one other foreigner and lots of Chinese," he recalls.
"We were going down the final stretch when I suddenly got shoved from behind. These three guys overtook us, ran for about 150 meters and then collapsed in a heap ahead of the finishing line. I asked one of them later why they did it, and he said: 'We're Chinese. We have to win'."
The government is also making efforts to promote healthier lifestyles part of its latest five-year plan. For example, it's investing in more municipal-level fitness amenities.
Wu Wenxuan, a 43-year-old Korean-Chinese, moved to the city from northeast China. He says the government selected four pilot districts in Shanghai last year where residents must all live within a 20-minute walk of the nearest fitness clubs.
"I can now find two gyms within 10 minutes of my apartment," he says.
Meanwhile, Asian men and metrosexuals may share an incentive to run that their Western counterparts generally lack.
"It feels better than beer," Lee says.
"It's good for your circulation. And it leaves your skin looking younger, with no toxins. Your skin really looks very smooth and wonderful afterward.