Dashing forward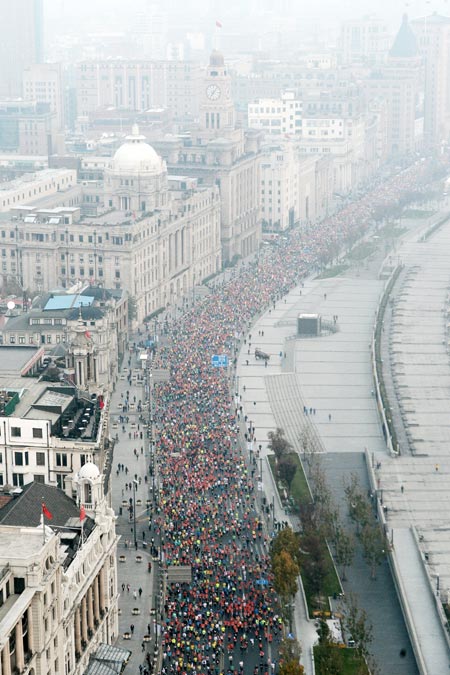 Runners compete in the Shanghai Marathon on Dec 1, even though the city's air pollution hit a record high that day. Photo by Gai Erqiang / China Daily
Brands as gatekeepers
Jilin's Dong believes international sports brands are fueling the fire in local people's bellies.
"I think Nike is a big influence because its stores in Shanghai organize plenty of runs," she says.
"This is quite influential. People tend to bring their friends."
The US-based sports brand has attempted to rebrand and localize running in recent years by broadcasting a series of commercials featuring local runners and their personal stories.
American-born Chinese Alex Davis works with the Shanghai hash groups. After appearing in a TV advertisement for adidas earlier this year, she realized the brand was deliberately tailoring the sport's image to appeal to Chinese women.
"I think Chinese girls are getting into it partly because they don't like to sweat, and the good thing about running is that you can control your pace," she says.
"Adidas did a lot of market research and found that female consumers here want to see images of girls smiling and working out in groups with their friends, whereas in the US it's more like power shots of them rowing and covered in sweat."
Briton Will Marks sees a perfect storm at work with brands leading consumers into the sport, Chinese people's love of one-upmanship and companies driving their staff to get involved.
"If you look at (the online shopping portal) Taobao, they always have the best equipment," the 29-year-old says.
"I was part of a Chinese runners' chat group for a while, and most of their messages were about who had the latest kit. It was usually way better than their running ability," he said.
"The Moron'athon also features lots of corporate teams, which pushes people into it. For example, I heard the Lenovo CEO is into running. So the whole company tends to get involved."