Dashing forward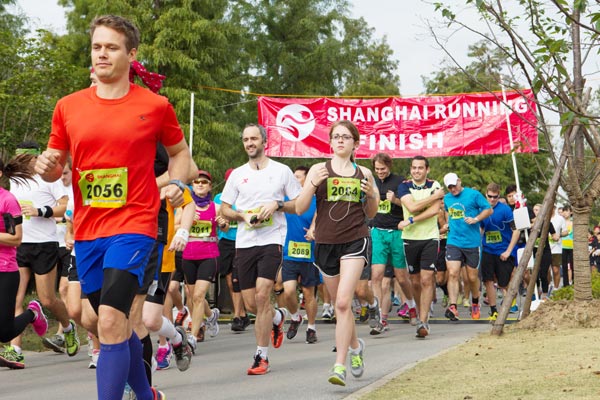 Hundreds of people take part in the weekend race on Nov 9 at Gucun Park in Shanghai, organized by Shanghai Running. Fortunately, the races happened under blue skies. Photo by Gai Erqiang / China Daily
Running is sprinting ahead in popularity nationwide, despite cultural hurdles and air pollution. Matt Hodges reports in Shanghai.
Shanghai native "Mofli" was used to living in one of the world's most polluted cities. After he was diagnosed a few years ago as being overweight with fatty liver disease, too much uric acid and high cholesterol, he did the opposite of what most people would have done: He began training for ultra-marathons.
He didn't need to be told he had a drinking problem. He already knew.
"Because of my job, running during the day and drinking at night are crucial pressure valves," says the 36-year-old, who works for the local government.
"I now know that I will keep running and drinking for many, many years."
Mofli, who only provided his online avatar for this story, ended up completing the 2013 Gobi Desert March this summer — a 250-kilometer endurance race in the Xinjiang autonomous region that compels runners to be completely self-sufficient.
The competition is part of the 4 Deserts series. It's considered one of the world's toughest races. Another Shanghainese died of heatstroke after the same event in 2010.
"I still can't believe it's possible," Mofli says.
"I hated running as a boy. At school, I couldn't even pass the basic sports exam. Then I began to dream of climbing mountains in Tibet. So I started to run and found I couldn't stop."
On Sept 7 he competed with some friends in the third annual Moron'athon, a 24-hour charity race in Shanghai. Their team -- More Booze, More Running – raised enough sponsorship money to build three libraries for low-income schools in China.
These days, many expat clubs, charity events and Chinese running clubs say participation from local runners is on the rise, even though China still lags behind neighbors Korea and Japan in hobbyist and medal-winning marathoners.