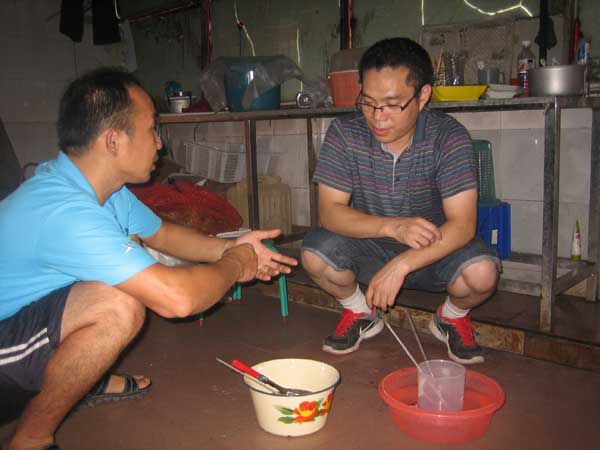 Chen Hongrong (right), co-editor of China's Compiled Food Safety Incidents, and his team spent three years interviewing people from the food industry and researching the issue. Photo provided to China Daily
In addition, many Web users liked her book.
"Initially we planned to give the book to relevant organizations for free and didn't expect so many people would purchase it," she says.
"There are also some food companies and officials from the China Food and Drug Administration who contacted me for the book."
Publication came after three years of research by Chen and her team.
They interviewed nearly 100 companies from the food industry, looked up media reports on food safety incidents and then compiled this material under 26 categories of scandals, including those associated with the rise of toxicity in food and drinks owing to polluted air, soil and water; the use of pesticides, preservatives and additives; and the sale of bad meat.
Besides listing incidents, the book also explains how foods become unsafe and what the hazards are of consuming them. It gives tips for telling the difference between good and bad food.
It all started from a conversation in 2012 that Chen had with Chen Hongrong, a Tsinghua alumnus, on the university's 101st anniversary.
He asked about my future plans, recalls Chen Qiaoling.
"I said I wanted to buy a bigger apartment, a nice car and live a comfortable life," she says.
But he told her that, as a student of the country's top university, she should think about social responsibility more than personal gain. Then the discussion turned to their worries on food safety in China, and the two decided to do something about it.
As part of their initiative, they first asked the people in their immediate surroundings what they understood about safe food. Answers varied.
Some believed only organic food is safe. Others thought fare without additives is.
"All of them were right, but their understanding was fragmented," says Chen Qiaoling.
"So we wanted to present a comprehensive look into the question."