Bites of Italy satisfy in Beijing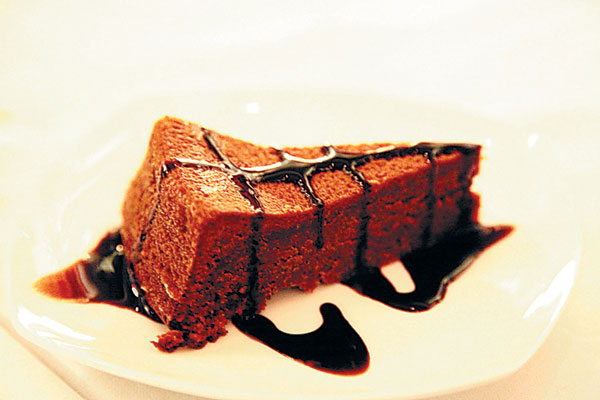 Torta Caprese [Photo by Fan Zhen/China Daily]
What this dish needs is a fresher and smoother sauce - and a healthier splash of it atop the pasta couldn't hurt, either.
The Torino ravioli was the white horse riding down to save the pasta. Though small in size, this knight came in the form of slow-cooked pork shank and creamy mushroom pasta bundles that gifted us with a rich buttery flavor that neither hid nor overextended the meat and mushroom within.
Desserts are a must at Eatalia. We ordered an indulgent, seemingly effortless panna cotta that would not quit with its heavenly creaminess and silky texture.
Tiramisu was creatively served in a champagne flute with just a few espresso-soaked sponge fingers surrounded by cream, which one of our party devotedly scraped every last vestige of from the bottom of the glass.
The Torta Caprese, made with ground almonds and Belgian chocolate, was texturally intriguing with the grainy almond and the smooth chocolate creating a sort of paste-cum-cake, similar to marzipan, which allowed the richness of the milk chocolate to move around my taste buds like a sweet, sensory wave.
Though it still has a few things to work on, in the end Eatalia provides a tasty, warming meal in comfort with friends.
sundayed@chinadaily.com.cn