Shanghai butterfly
Stuffed jujubes.[Photos by Pauline D. Loh / China Daily]
Go where the locals go and you cannot go wrong. Pauline D. Loh gets invited for a true taste of Shanghai.
My colleagues by the Bund love to eat, and it was clear that the best food critics were right there in the office. They were going to buy lunch, and there was no doubt it was going to be a good meal.
Benbang cai, the genuine flavors of the Shanghainese, is down-to-earth, salty, sweet and strong. It values contrast in texture and taste and is considerably more demanding in kitchen craft.
Its signature dishes are the red-cooked braised pork with a heavy lacing of caramelized sauce, drunken crabs and drunken prawns made with sweetened yellow liqueur mixed with stronger white spirits, and it enjoys miniature vegetables like cao tou, a clover-like trifoliate herb and malan tou, a wild chamomile. These are the first spring vegetables and are often chopped fine with speckles of bamboo shoots.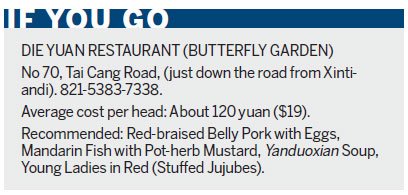 Our restaurant of choice was Die Yuan, the prettily named Butterfly Garden, which shares the same street as Xintiandi, the night hub where Shanghai locals and tourists congregate.
The restaurant may be near Xintiandi, but it has none of the entertainment enclave's glitz and glamour.
Butterfly Garden is housed in a two-story shop house and if you don't look hard enough, you may walk right past the door. Enter that door, and it may seem you'd stepped back into a time warp of 30 years. Perhaps the restaurant consciously cultivates this ambience. It certainly does not recognize modern credit and it only accepts cash.
There are just a few tables downstairs, reserved for strangers who walk in. The more favored regulars are shown up a creaking flight of wooden stairs and down a narrow corridor fringed by private rooms. The cubicles are small, but then, you are here for the food.
Once we were seated, the menu was scrutinized and our orders placed. There are no surprises because we ordered all the house favorites.