No more Monday blues at Olive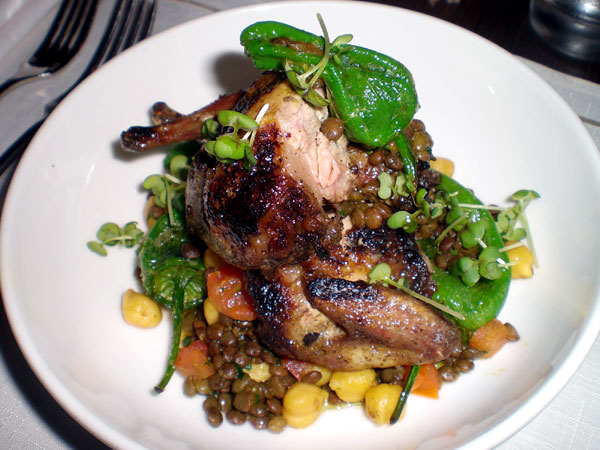 Quail ras el hanout [Photo by Donna Mah/China Daily]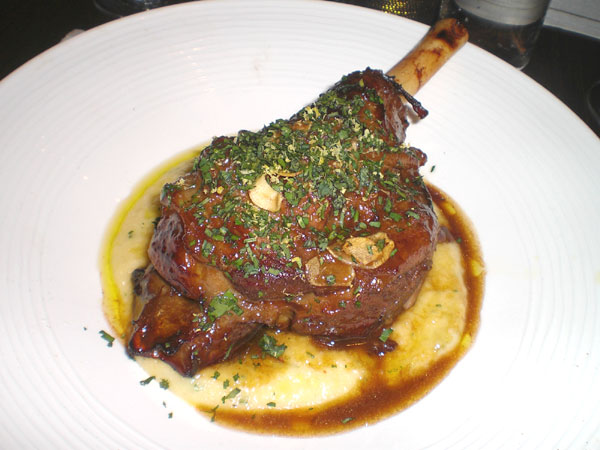 Lamb shoulder with wild greens [Photo by Donna Mah/China Daily]
It has been a while since I have ventured to the Soho area for a meal so it was fortuitous that Michelin star celebrity Australian chef Greg Malouf was in town and had introduced a few new dishes to the menu at Olive on Elgin Street.
Olive is not a new restaurant. It has been around since 2004 but this was my first visit.
Olive serves Greek and Middle Eastern food drawn from Malouf's classical cooking training, international experiences, and Lebanese heritage.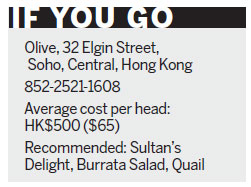 We were looking forward to a quiet evening of dips, pita bread, and some fragrant main dishes since it was a Monday night. Surprisingly, shortly after our arrival, the restaurant began to fill with diners and was soon near capacity. And what we experienced was a boisterous evening, filled with good food and drinks.
The large table of 12 crowded into the table next to us and shared the secret, it was 2-4-1 Monday. Ah! Two main dishes for the price of one.
Jeff Marcos, the restaurant manager, introduces the new creations.
Starters included a salad of burrata, courgette, baby beets, Italian leaves, violas (flower petals), quail, ras el hanout (a blend of spices), organic chickpeas, and pimientos de padron.
The burrata cheese was creamy and fresh, and the long pieces of thinly sliced lightly marinated courgette was perfect. The flower petals also added lovely color to the dish. The quail was very rich by comparison, but prepared well with crispy skin, tender meat, and a bit of spiciness.
For our mains, we had the sultan's delight - slow cooked lamb shoulder with wild greens and cheesy eggplant puree and the guvec - claypot free-range chicken with Medjool dates, spicy sujuk sausage and burghul.
The lamb was tender and the flavors of the brown sauce from the meat blended well with the creamy puree.
The chicken was served bubbling in a clay pot in a rich stew of barley, chickpeas, scallions, olives, and tomatoes, and flavored with whole cinnamon sticks and star anise.
Let this dish cool for a bit before eating or you could burn your tongue.
Of the two, I would order the lamb again. The stew the chicken came in had a lot of flavor and texture but the chicken itself was nothing special.
The mains were served with a pomegranate and baby spinach salad, which was a good complement as it is a cool dish that provided color, sweetness, tang, and freshness to the meal.
The dessert of sorbet, fresh watermelon and assorted pastries are a deliciously sweet end to a surprisingly boisterous meal.
sundayed@chinadaily.com.cn