Lamb dressed as mutton by the bridge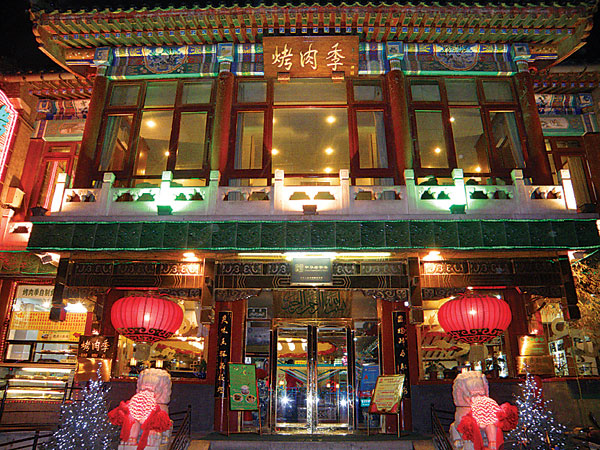 Kaorou Ji is next to Shichahai Lake's much-storied Yinding Bridge. Provided to China Daily
If a restaurant has more than 100 years of history, it must have done something right.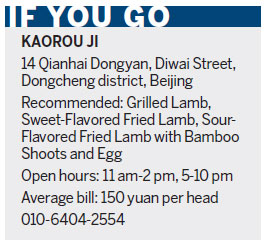 Kaorou Ji, also known as Ji's Grilled Lamb Restaurant, is near Shichahai Lake's famed Yinding Bridge and dates back to 1848, when the lake had a pier that connected to Beijing-Hangzhou Grand Canal.
The restaurant's founder was a Beijing Muslim named Ji Decai. He owned one of many grilled lamb stands alongside Shichahai Lake. His lamb was so good that his grandson was able to purchase a building and establish a restaurant, in 1927.
Lu Jianwei, the manager of Kaorou Ji, says the restaurant has been in the same place since then and on the third floor a room replicates the look of an old grill stand 100 years ago - a circular stove covered with an iron plate in the middle of a round table, with benches on four sides.
Customers put food on the bench and use a pair of 80 cm long chopsticks to stir and grill slices of lamb on the iron grill, heated with peach or apple wood.
The grilled lamb slices are first dipped in sauce before being put on the grill. When they are ready they are stirred in a mixture of shallots and coriander.
A chef shows customers how to grill, after which they are on their own. There are eight kinds of prepared grilled lamb: rare, well done, crispy, slightly burnt, sweet, salty, spicy, or with an egg in the center.
Although an introduction at the restaurant says the first written record of grilled lamb was in the Northern Wei Dynasty (AD 386-534), manager Lu says the tradition of eating lamb in Beijing began with the establishment of the Qing Dynasty (1644-1911).
Manchu people, traditionally from Inner Mongolia, loved to eat grilled beef and lamb; while lamb figures a lot in the diet of Beijing's Muslim population, which poured into Beijing at the end of the Qing Dynasty.
The restaurant has just one room where people can eat around an old grill, but it comes with a view of the nearby hutong, Bell Tower and Drum Tower.
A connecting room offers more options for hearty eating. These include popular Muslim lamb dishes such as tasimi, sweet flavored fried lamb slices, sour tasting fried lamb with egg and bamboo shoot, and mashed green bean curd fried with diced lamb.
While the old way of lamb eating is more "country style", the restaurant also offers a more refined grilled lamb with coriander, served in a beautiful cloisonne pot heated from below.
A helping of lamb good for four people costs 92 yuan ($15), 168, or 198 yuan depending on the quality of the lamb.
Lu says when it snowed, Qing Dynasty emperors would have their houses warmed and eat grilled lamb. That is now all available at Kaorou Ji, plus a good view of the lake.
The restaurant's lamb grilling technique was recognized as a national level intangible cultural heritage in 2008.