World's biggest food fair opens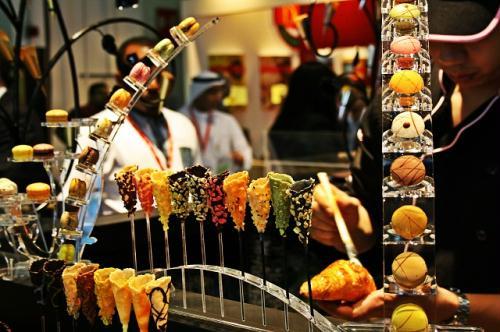 The world's biggest annual food fair has opened in Dubai. Gulfood 2013 is a tasty proposition for any gourmand. This year, the region's largest food industry event is showing off more than 50,000 food and beverage brands.
The four-day event opened its doors on Monday to a mouth-watering range of specialities from around the world. The first day saw nearly 20-thousand visitors try delicacies as well as watching cook demonstrations and take part in competitions.
The third Baking & Pastry Competition, was hosted in conjunction with the Dubai Food Festival. Many professional chefs are taking up this opportunity to flaunt their skills to a large audience.
Organizers invited food experts from across the globe to be competition judges. Kenny Kong is a cooking expert from Singapore.
Kenny Kong, food judge of Dubai Gulfood 2013, said:"We will give them scores based on how carefully they can handle their works, whether they are being creative. Also, their cakes couldn't be finished in just one day, so there might be sanitary problems. So we will check the duration and heating of their creations as well."
Gulfood, the world's biggest annual food and hospitality show, runs until Thursday. Over 4-thousand companies from more than 100 countries are taking part.