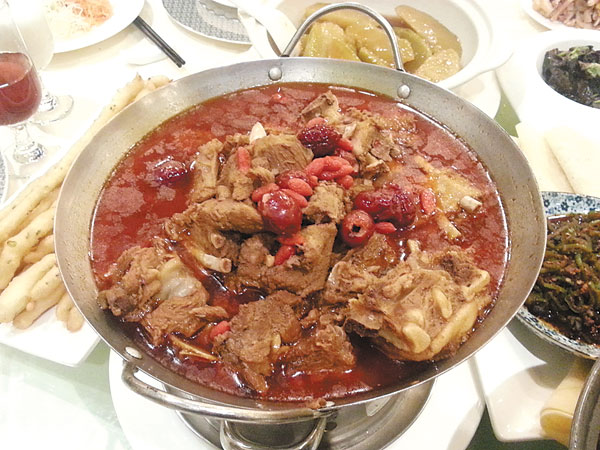 The classic Henan dish brown-braised lamb is very popular in North China, especially during the cold season.[Photo by Ye Jun / China Daily]
Yuxiang Yuan may not be well-known among expatriate diners in Beijing but it is a restaurant that deserves to be bookmarked if you want to experience what Henan food is like.
The restaurant is on the second floor of Henan Dasha, where the provincial administrative offices in Beijing are located. That is normally a good indicator that the cuisine will be authentic.
Dubbed the "middle plains", Henan is often cited as the cradle of Chinese civilization, and where Chinese culture started, including food culture.
Just like the other major branches of Chinese cuisine, dishes from Henan have become part of the repertoire of every Chinese kitchen. They have become the basics of Chinese cuisine in general.
For me, the restaurant offered a nostalgic trip down memory lane, where I found some food from childhood.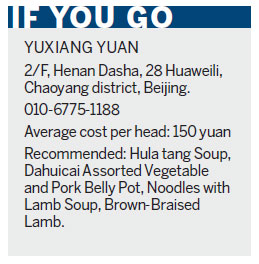 Hulatang (pepper hot soup) is sour and spicy soup made with lamb broth, bean curd slices, starch noodles and dried day lily buds.
It is a breakfast favorite, usually accompanied by shallot cakes and fried dough fritters. The soup dates back to at least the Tang Dynasty (AD 618-907), and it is also a popular part of breakfast in my hometown in northern Jiangsu province.
Another Henan dish is steamed vegetable slices coated in flour. Radishes, carrots and edible chrysanthemum are sliced and coated in steamed flour, which gives them added texture. It is a dish my mother, who is from Hebei province, made frequently when I was a boy. It just goes to prove how widespread Henan cuisine is in North China.
The main course, dahuicai, is a combinatioin of cabbage, bean curd, shiitake mushroom and slices of pork belly, all served in a heated pot.
The restaurant's menu gathers dishes from many different areas of Henan. Brown-braised lamb is from Xinxiang. Potted chicken is from Kaifeng. Tiny fried dough fritters are from Nanyang, and "iron pole" mountain yam is from Jiaozuo.
The brown-braised lamb is another classic Henan dish, very popular in North China, especially during the cold season.
For staples, the restaurant serves diaolu shaobing, hanging furnace sesame cake, served with preserved turnip slices to stuff inside the cake. Baked the traditional method, this is a surefire reminder of the good old bad old days.
Lamb soup noodles is a good way to wind up a meal at Yuxiang Yuan, another simple but classic Henan favorite.
On the first floor of the same building, there are shops selling regional specialties from Henan, such as the "iron pole" mountain yam, known for being nutritious, and Xinyang "furry tip" green and black tea.
yejun@chinadaily.com.cn