The southern barbarian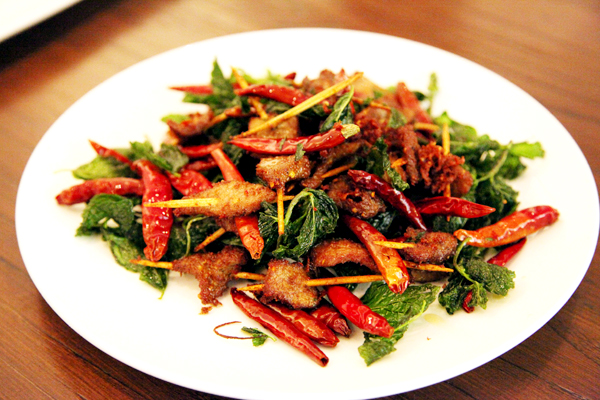 The chili beef on toothpicks with crispy fried mint leaves. [Photo by Fan Zhen / China Daily]
As Chinese travel around the country more and the demographics shift from country to city, Beijing is enjoying a wave of regional cuisines it has never tasted before. CJ Henderson looks at traditional Yunnan food brought to the capital.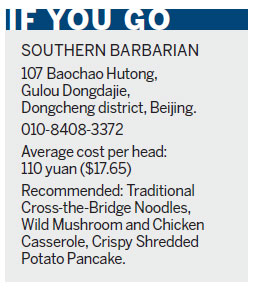 The restaurant is spacious without seeming cavernous, and has tables to suit dining parties large and small. The decor is modern-chic, with careful lighting and dark wooden tables.
Southern Barbarian serves Yunnan food from the province in China's southwest, but it has a large bar to go with an equally extensive drinks list, including several pages of hard-to-find imported beers from Australia and Germany.
But the food is the real reason to brave the winter chill to root out the restaurant at Baochao Hutong, and savor Yunnan food with its irresistible combination of spice and herbs.
Their menu is long and varied; you can get wild with a bug platter or stay safe with noodles.
It just depends on what you're looking for. Our party went for a tasty, wholesome meal, and we got just what we asked for.
Their crispy shredded potato pancake is a great way to start off the meal. Crunchy, slightly salty, and topped with chives, this Chinese hash-brown pizza was snapped up in minutes, chased down with delicious ice-cold beers.
The salt and pepper fried Yunnan goat cheese, though perhaps under-seasoned, is soft, hot and had that characteristic flavor that fresh goats cheese should - creamy but with a certain tang that lingers on your tongue.