Diaoyutai food fest offers tourists royal treatment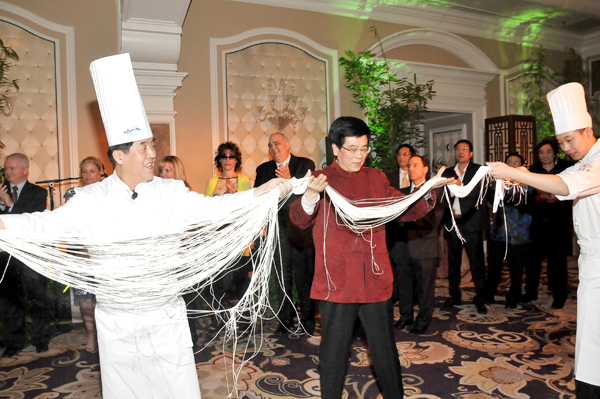 Diaoyutai chefs demonstrate their skills in making Dragon Bearded noodles during the event, with the joining of Chinese Consul General to San Francisco Gao Zhansheng(center)
Visitors to the Bellagio luxury hotel recently got a once-in-a-lifetime chance to sample the cuisine of China's Diaoyutai State Guesthouse, once reserved only for royalty and other world leaders.
The Diaoyutai Culinary Festival began on Feb 13 and concluded on Feb 22.
Supported by Diaoyutai MGM Hospitality, the festival celebrated the Chinese New Year.
Diaoyutai State cuisine represents the essence of Chinese fine dining, which has been renowned worldwide for many years.
As China's highest standard service venue for hosting foreign heads of State, Diaoyutai State Guesthouse has received 1,220 presidents, kings and queens, and government leaders, including the president of the United States, the Russian prime minister, the queen of Britain and the emperor of Japan, since its establishment half a century ago.
Those global dignitaries were enchanted by the iconic four beauties of Diaoyutai Cuisine -- delicious food, exquisite chinaware, elegant service and graceful environment.
As an ambassador in cultural exchange, the festival has been successfully hosted in many countries and regions, including France, Switzerland, Japan, Singapore, Brazil, Malaysia, as well as the Hong Kong and Macao special administrative regions before.
This year marks the second Diaoyutai Culinary Festival in the US. It was first held at the MGM Grand in Las Vegas in 2008.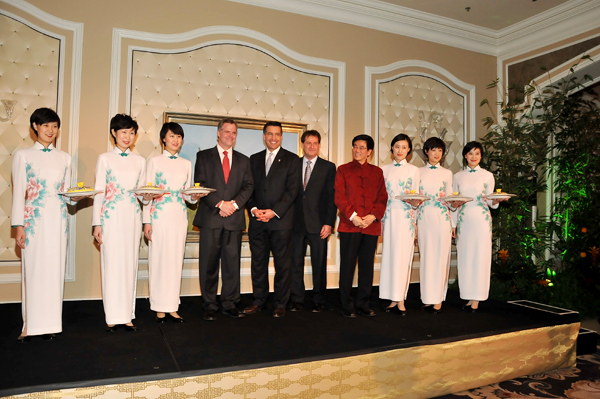 Chinese Consul General to San Francisco Gao Zhansheng(fourth right), Governor of Nevada Brian Sandoval (fifth left), Lieutenant Governor of Nevada Brian Krolicki (fifth right), Chairman of MGM Resorts International Jim Murren (fourth left) presented at the opening ceremony of Diaoyutai Culinary Festival at Bellagio Hotel, Las Vegas, on Feb 14, 2013.