Truffles in braised pork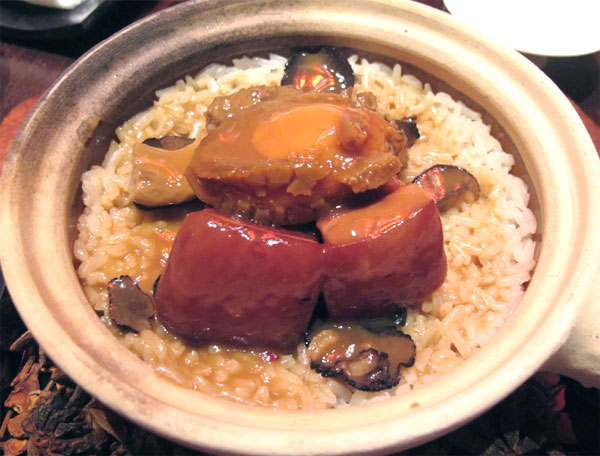 Braised pork with black truffles is a creative Chinese innovation marrying truffles with a traditional classic. Provided to China Daily
Innovation is the chef's prerogative, and when a dish is tried and tested, it goes on to become culinary legend. Ye Jun looks at how one kitchen genius used black truffles to turn a home-cooked classic into a banquet specialty.
Black truffle has long been a treasured ingredient in the Western kitchen. But recently, this rare and seasonal fungus has also appeared in many Chinese dishes, thanks to some very adventurous chefs who dared to think out of the box. One such dish gaining popularity and making its rounds in a number of high-end restaurants in Beijing is braised pork with black truffles - first introduced to Chinese diners by Jack Aw Yong, the executive chef of Park Hyatt Beijing.
"I have always liked abalone and brown braised pork," says the Singaporean chef. "Then one day, I was reading a book about the best ingredients in the world, and came across a dish of Matsutake mushroom with steamed rice."
Aw Yong asked his kitchen to try out the recipe, but it was not aromatic enough. As he thought through the recipes, it occurred to him that he could use an equally aromatic mushroom in a dish with braised pork and abalone - along the lines of Taiwan-style braised pork with steamed rice in a clay pot.
Black truffles used in Beijing restaurants are mainly from Yunnan. Provided to China Daily
"Abalone has little taste. Braised pork is not particularly delicious on its own. Black truffle by itself is not so good as well. But the combination of abalone, black truffle and the braised pork gravy is particularly good," says the chef. He had discovered a special alchemy.
The key to the dish, he says, is the pork should be sliced thin and then fried so that the fat is rendered and the meat is lean and tender. And you have to put in plenty of black truffles.
At another high-end Chinese restaurant, Summer Palace at the China World Hotel in Beijing, chef Hou Xinqing makes braised pork with black truffles, but in Huaiyang style.
Braised pork is a common dish in China, according to Hou, with slight differences in taste in various parts of the country.
In the North, the dish is more salty. In South China, it tastes slightly sweet. In Southwest China's Sichuan province, it is a little spicy. In Northeast China, it is served with sour cabbage.