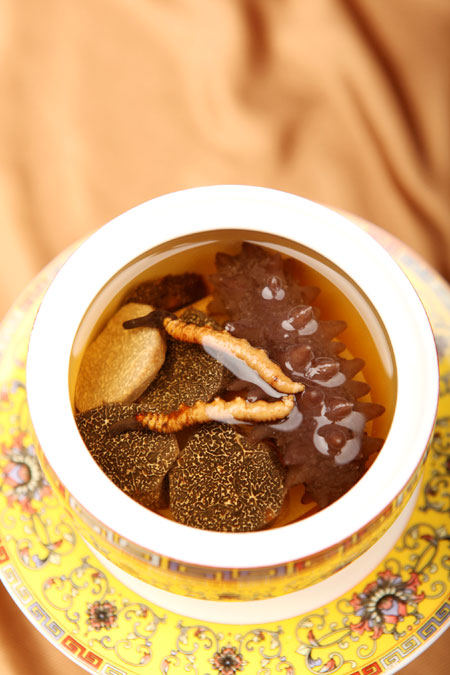 [Photo provided to China Daily]
Hou is from Yangzhou in Jiangsu province and he says in Jiangsu and Zhejiang, braised pork can be paired with many ingredients, such as bamboo shoots, and chestnuts. At the Summer Palace Chinese Restaurant, he pairs braised pork with turnip from Yangzhou, or dried green beans.
Pork belly squares are pan-fried with ginger and shallot, flavored with soy sauce and rice wine, sugar, salt, star anise, cassia bark, and bay leaf, and simmered for an hour.
Then, pre-prepared turnip or dried green beans are added to the pork to cook for 20 minutes. Slices of black truffle are added just 10 minutes before the dish is ready.
"The dish is salty, with a slightly sweet flavor - and it is still Huaiyang style, although traditionally we do not use many mushrooms. Turnip or dried beans help cut the grease of pork belly," the chef says.
Hou says Huaiyang cuisine does not usually use black truffle, but its addition boosts the nutrition and value of the dish, which costs 280 yuan ($45) a clay pot at the restaurant.
Both Jack Aw Yong and Hou Xinqing use black truffles from Yunnan province.
While Italy and France are already famous for their truffles, China's Yunnan has only started to supply them to restaurants in recent years.
Huang Jingkun, executive chef of Colorful Yunnan Restaurant's Anzhen branch, says the locals have always known about the black truffle, but nobody realized it was so valuable.
"Local people called it 'pig-dug fungus' because sows find them in the ground," he says.
"I remember when I was young, nobody used to eat it, and it was only fed to the pigs."
The 40-year-old chef went to work in the kitchen of Kunming Hotel at 16 years old, when he found some truffles as part of ingredients. That was in 1988.
"It was rarely used. When people use it, it was to stew chicken or other meats," he recalls. "It was super cheap."
For more food stories please click here.