Don't trifle with truffles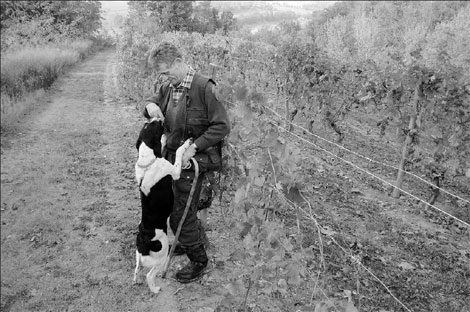 Renowned truffle hunter Renato Agnello with his favorite truffle hunting dog, Gigi. Patricia Wu / for China Daily
Hunters of the precious fungus say their trade is serious business. Patricia Wu reports.
Gigi, a 4-year-old mutt, is worth his weight in gold. Gigi (short for Luigi) is the best truffle-hunting dog Renato Agnello has ever owned. Agnello should know a good hound for finding the fungus. He's one of the best truffle hunters in the Piemonte region of the rolling hills in northern Italy, home to the renowned white Alba truffle. Agnello first went hunting for the world's most expensive mushroom with his father when he was 6. The 73-year-old has been hooked ever since. A grin lights up his weathered face as he remembers his biggest find - a 510-gram white truffle he unearthed in 2001.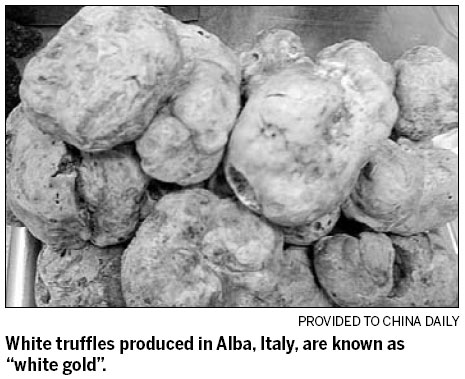 Such a score seems unlikely this year. Unseasonably dry weather has made the rare mushroom even scarcer.
Truffles are 80 percent water, so copious rain is needed to help them grow. Humidity also helps to bring out the mushroom's legendary aroma making them easier to find.
That's one reason why truffle hunters, or "trifulau" as they're known, go hunting at night.
There are other reasons to search under the cover of darkness.
No one wants to tip off a rival to a good location. And it's quieter at night, so the dogs are less easily distracted.
Competition for truffles, also known as "white gold" or "diamonds of the kitchen", is so fierce that a trifulau would never dream of letting his dog go outside on its own for fear of it being kidnapped by a jealous competitor.
The nighttime foraging norm is the reason most truffle-hunting dogs are white or light-colored. They're easier to see in the dark.
Since it's about 3 pm when my friends and I follow Agnello into the woods, we're not expecting much.
Our guide explains that truffle-hunting trips for tourists are simulated.
The trifulau plants a black truffle in the ground for the dog to find so that tourists can see the process. Black truffles are used because they're less expensive than the white varieties.
We follow Gigi as he scurries forward eagerly sniffing and pawing.
Truffles develop underground near the roots of certain trees. White ones only grow in the wild and almost exclusively near Alba. Agnello proudly says: "The soil of Alba cannot be copied or reproduced."
Certainly, no one has been able to cultivate a white truffle yet. So the prized mushroom brings a gleam to every chef and foodie's eye.
That certainly goes for just about everyone in the Piedmont region - home to more Michelin-starred restaurants than any other region in Italy.
Suddenly, Gigi is digging excitedly, and his tail is wagging furiously.
He has found the planted black truffle!
We all clap and cheer as he gets a treat for his "find".
As we head back, I ask Agnello if he eats a lot of truffles.
He says no with a wink and a smile and explains: "Truffles are legendary aphrodisiacs."
Since he goes truffle hunting every night during the season instead of spending time with his wife, eating them would be a problem.
A bark from Gigi interrupts my next question.
We head over to where Gigi is again digging furiously.
Agnello drops down to his knees and starts digging deeper and deeper into the hard, dry soil with his bare hands.
About 18 cm down, Agnello finds a white truffle.
It looks like a very small, misshaped potato.
He lifts it out, and the aroma is unmistakable - a blend of fresh mushrooms, the earth, hay, a rainy fall day and maybe a hint of garlic.
Agnello is stunned at the find.
He has never unearthed a white truffle on a hunting trip with tourists in the middle of the afternoon.
Agnello estimates that this truffle weighs 20 grams. That's much smaller than the average size of 30 grams to 40 grams.
Size is just one factor in evaluating a truffle.
It also must be very fragrant and just the right consistency. It can't be too hard, or it's not ripe. But if it's soft, it's overripe.
Gigi's find passes the muster, and Agnello estimates it's worth about 50 euros, or $75.
That may be conservative.
The lack of rain this season has driven prices to twice what they were last season - about 4,000 euros per kilogram. Consumers are paying about $200 an ounce ($7,055 a kg) for white Alba truffles. One ounce is enough for several dishes.
But Agnello says he doesn't plan on selling it.
He's retired from truffle hunting for profit and now does it simply because it's in his blood.
He is a fifth generation truffle hunter, and he's teaching his 13-year-old granddaughter the secrets of the family trade.
So what will Agnello do with Gigi's find?
He says he will give it to a friend.
Truffles should be eaten as soon as possible. The fungus starts to lose moisture and decay as soon as it is out of the ground.
The soil helps to preserve moisture, so it is not brushed off until the truffle is ready to be served.
It only lasts about five days in the best of conditions. It must be wrapped in a damp cloth and placed inside a glass container and refrigerated. Incorrect storage will make it spoil even faster.
As Agnello tells me about dishes made with white truffle, I wonder how anyone manages to keep one around for more than a few hours, much less a few days.
White truffles are shaved into thin slices and eaten raw over a simple pasta or risotto, so the truffle's flavor and aroma take center stage.
It also can be paired with thin slices of raw beef, polenta or cheese fondue.
As I ponder the mouthwatering possibilities, Agnello thinks about the rest of the white truffle hunting season.
It runs until about January, so there is still time to make up for this year's disappointing start.
Agnello tells us the forecast calls for rain as he drives off with Gigi, the truffle hunter's best friend.
Patricia Wu is a television reporter covering finance for Headline News (HLN). In her spare time, she travels and indulges in her passion for all kinds of food from all over the world. She reads menus for fun and loves to eat.