Angry Birds and truffles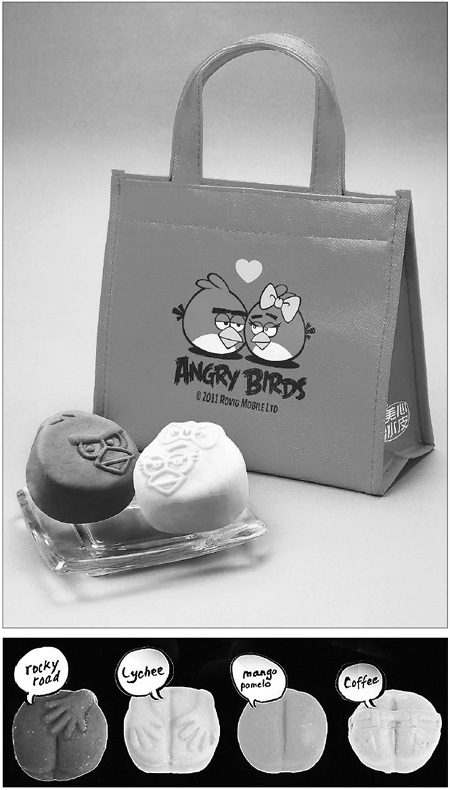 Angry Birds never looked so appealing, or tasty. The brown male bird is chocolate crunch and the female is sweet mango and pomelo. And, if you want to have a little hilarious fun during the Festival, make your friends or family the butt of the joke, literally. [Provided to China Daily]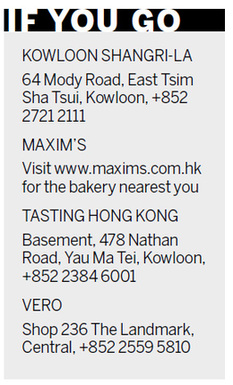 Rebecca Lo looks at those stir-crazy creative bakers and sellers of mooncakes in Hong Kong.
Hong Kong loves a trend. And if there is one thing it loves even better, it is to start a trend - just witness the immense choices coming out of the mooncake boxes this year.
Controversial forms, unexpected fillings and designer packaging offer mooncake options to please the pickiest palettes.
Want to make your friends the butt of the joke? Give them some of those butt buns that have been selling like hotcakes. Or please the iPhone game addict with a pair of lovey-dovey Angry Birds that have paused in their pig-targeting to cozy up while the Autumn Moon shines bright.
Mooncakes were traditionally eaten to celebrate the festival, considered one of the four most important holidays of the Chinese calendar. They have also become popular presents to bring when visiting family or as corporate gifts, which has made their packaging all the more significant.
"The mooncake has staying power because it is a food that people share," says Jacquelyn Wilson, communications and events manager with Vero, a homegrown Hong Kong luxury chocolatier.
It is riding the wave of sweet, dessert-oriented mooncakes targeted at younger consumers. Its handmade chocolate mooncakes use internationally-sourced cocoa laced with premium ingredients such as African mango, Italian hazelnuts and single malt Scotch whisky. They are presented in special boxes with a silver scroll.
Long established on the local culinary scene since the 1960s, Maxim's has something for everyone - and that includes its mooncakes. While its traditional lotus seed paste mooncake is its best-selling item, its premium egg custard mooncake is a popular choice for gift-giving.
This year, Maxim's has a trio of fun mooncakes designed to have kids craving more. The Angel and Devil Choco Dip Pack contains four mini snowy mooncakes and toppings such as chocolate and candy chips, along with a handy heart-shaped cup. It's like a DIY fondue; the mooncake is dipped into the chocolate and can be personalized with names or other designs.
Earlier this year at the Hong Kong Food Expo, Maxim's launched its Angry Birds snowy mooncake. These are sold as a pair with a red Angry Birds cooler bag.
"I'm a total Angry Birds game addict so I was ecstatic when these mooncakes came out molded in Angry Bird characters by Maxim's," says freelance food and lifestyle writer Nan Hie In.
"Apart from licensed products like Angry Birds and Hello Kitty mooncakes, we are eager to explore cross-over concepts with other brands," says Stephanie Chan, marketing manager with Maxim's Caterers' Branded Products Division. "G.O.D. is a famous local brand, and we are proud to present our joint innovative product mini-snowy mooncake series."
The butt of much controversy, G.O.D.'s mooncakes are shaped to play up the moon part of mooncake. (In local dialect, "full moon" also means the fleshy and flashy derriere.) They have been best-selling items for the retailer since they launched in 2008, and the colorful mini snowy mooncakes in fruit and chocolate flavors are cool additions to the product series.
Those looking to spoil themselves will want to indulge in some of Kowloon Shangri-La's mooncakes featuring black truffles from France. The cakes are nestled in boxes featuring imperial gold and auspicious red designs based on the lattice screen doors of the Michelin-starred Shang Palace restaurant in Kowloon Shangri-La.
In addition, Shangri-La is offering festive cookies. Cookies are "bite-sized, easy to handle and appeal to any age," explains Kowloon Shangri-La's pastry chef Wins Hung.
"The Mid-Autumn Festival is the time of the year to celebrate togetherness, symbolized by the full moon," says Kowloon Shangri-La's dim sum chef Chi Ming Chung.
Budding chefs who want to try their hand at making their own mooncakes can check out the family-friendly classes at Tasting Hong Kong. Along with learning the secrets behind Wing Wah Bakeries' mooncakes through making two mini mooncake flavors, they also find out how to pair the mooncakes with Wing Wah's tea.
Regular and private classes are available, along with Wing Wah's extensive selection of mooncakes including low sugar, icy and traditional lotus seed paste, packaged with its distinctive peony logo.
You can contact the writer at sundayed@chinadaily.com.cn.