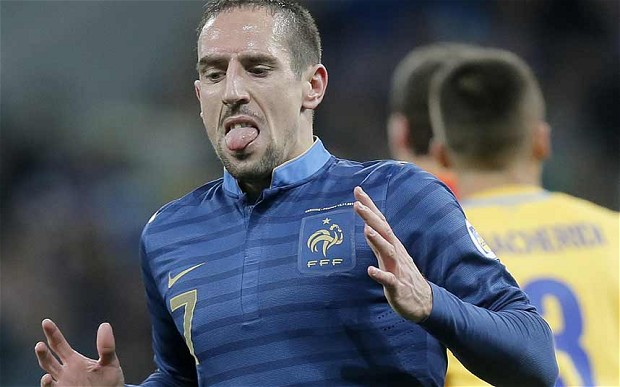 How they qualified
By *le peau de leurs dents*. Understandably finished second to Spain in their group; less understandably lost 2-0 to Ukraine in the play-off, before storming back to win 3-0 in Paris.
World Cup high
Winning at home in 1998, single-handedly converting a nation that up until that point secretly preferred rugby.
World Cup low
Going out in the first round without a win four years later was one of the all-time great World Cup shocks.
Familiar faces
Hugo Lloris (Tottenham), Patrice Evra (Manchester United), Mamadou Sakho (Liverpool), Gaël Clichy (Manchester City), Bacary Sagna (Arsenal), Laurent Koscielny (Arsenal), Samir Nasri (Manchester City), Olivier Giroud (Arsenal) and most of the Newcastle team.
The manager
Not a great deal is expected of Didier Deschamps this time round. The long-term priority is Euro 2016 on home soil, and he has recently had his contract extended until then.
How in danger is he? 4/10
Most likely to light up Brazil
Franck Ribery. Ballon d'Or or no Ballon d'Or, the Bayern Munich winger is a titan.
Most likely to be sent home in disgrace
International tournaments tend to bring out the fighter in Samir Nasri. God knows where it is the rest of the time.
Title odds: 25/1
The stereotype is …
Perennial underachievers given their enviable depth of talent, but somehow manage to fluke their way through courtesy of luck or Fifa.
The reality is ...
A bunch of quite good players, but few great ones. Still suffering a certain identity crisis, and bearing the scars of four years ago.
What are they known for?
Saucy actresses 48 per cent
High taxes 22 per cent
Fine dining 19 per cent
Calais hypermarkets 11 per cent
How Brazilian are they?
Not hugely at the moment. Have plenty of flair players, but still searching for a system that will accommodate them.
How Google translates the national anthem
But the bloodthirsty despot, but the accomplices of Bouille. All these tigers who pitilessly ripped out their mothers.
Duration
Barely a minute, and not a second wasted.
How to dress like their fans
French fans have perfected the art of dressing as colourfully and extravagantly as they can whilst maintaining an expression of perfect glumness.
Commentator's go-to stat
The 13 goals that Just Fontaine scored in 1958, still the record for a single tournament.